New CP record for Canadian grain transport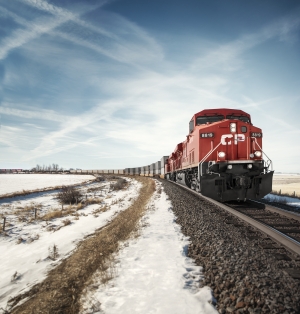 (Posted on 13/02/23)
Canadian Pacific moved 2.29 million metric tonnes of Canadian grain and grain products in January 2023, setting a new record for the month. CP has moved more than 15 MMT of Canadian grain and grain products thus far in the 2022-2023 crop year, exceeding the amount shipped by this time in the 2021-2022 crop year by more than 45 percent.
"CP's grain performance through January demonstrates the strength of our customers' supply chains, and the strong resiliency of our railway operations and effective winter planning, allowing CP to deliver for our customers," said Joan Hardy, CP Vice-President Sales and Marketing, Grain and Fertilizers. "CP, our customers and other supply chain participants were able to ship nearly double the volume of grain and grain products compared to January 2022, despite slowed grain vessel loading because of rain in Vancouver, holiday closures and periods of extreme winter operating conditions."
"CP is dedicated to grain; we have invested more than $500 million in new high-capacity hopper cars, and we are working with our customers to boost supply chain capacity," added Hardy. "We are pleased to see a strong crop for Canadian farmers and the Canadian economy."
CP has called on the government and industry to improve the ability to load grain vessels in the rain at west coast terminals. This problem in Vancouver is causing significant capacity constraints for Canada's export of grain and agricultural products. Persistent rain delays in Vancouver disrupt the efficient, balanced cycling of rail cars from the Port of Vancouver back to the in-country grain elevators on the Prairies, where they are re-loaded with grain and transported back to the West Coast. These delays unavoidably reduce the grain supply chain's velocity and export capacity.
"CP appreciates the attention of both government and industry to this matter, and looks forward to stakeholders finding pragmatic and safe solutions to maximize throughput for Canada's export grain supply chain," said Hardy.
CP voluntarily publishes a weekly Canadian grain and grain product supply chain scorecard. The scorecard outlines CP's performance for the previous grain week and includes detailed information on any internal or external factors affecting grain movement. More information is available on CP's website.
Effective crop year and winter planning helps prepare CP to serve the needs of its customers, and by extension, the broader economy.
Latest News
(Posted on 03/12/23)
In the presence of Kassym-Jomart Tokayev, President of the Republic of Kazakhstan, AD Ports Group, a... Read more
(Posted on 03/12/23)
Lhyfe, a global pioneer in the production of renewable green hydrogen for transportation and industrial... Read more
(Posted on 26/11/23)
A 194 million euro investment in North Sea Port will secure large-scale CO2 reduction by the largest... Read more
(Posted on 17/11/23)
The Central Association of German Seaport Operators (ZDS) has called for a decisive German port policy... Read more
(Posted on 13/11/23)
A groundbreaking feasibility study has highlighted the potential for using clean ammonia to refuel ships... Read more
(Posted on 05/11/23)
IAPH has announced the ratification by the IAPH Council of the new IAPH Board. The Board is formed by... Read more
(Posted on 05/11/23)
CN has announced that it acquired from Genesee & Wyoming Inc., a stake in the Cape Breton &... Read more
(Posted on 31/10/23)
Due to continued very high inflation, the Hamburg Port Authority (HPA) will raise port fees by an average... Read more
(Posted on 31/10/23)
The UK's leading ports group, Associated British Ports (ABP), has appointed Jeff Gibb as Lead... Read more
(Posted on 26/10/23)
In the first nine months of 2023, there was 6% less throughput in the port of Rotterdam: 329.9 million... Read more