New CEO appointed at Pilbara Ports Authority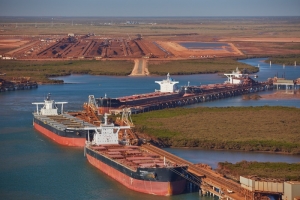 (Posted on 10/01/23)
Ports Minister Rita Saffioti has announced Samuel McSkimming as the new CEO of the Pilbara Ports Authority.
Mr McSkimming brings significant experience to the role with more than a decade at Aurizon, Australia's largest rail freight operator.
He is currently Aurizon's General Manager New South Wales and Southeast Queensland.
Mr McSkimming will take over from current CEO Roger Johnston, whose term expires on 30 June 2023.
Comments attributed to Ports Minister Rita Saffioti: "I want to congratulate Samuel McSkimming on his appointment as CEO of the Pilbara Ports Authority.
"The Pilbara Ports Authority play an integral role to the State, national and global economies and Mr McSkimming brings considerable experience to the role, with more than a decade at Aurizon.
"There is a significant amount of work to be delivered at our Pilbara ports, as we look to expand and diversify our exports, and I look forward to working closely with Mr McSkimming as we deliver a number of important projects.
"I'd also like to thank Roger Johnston for guiding the Pilbara Ports Authority for the past 10 years, particularly through the challenges of the COVID pandemic.
"Roger's leadership and strategic thinking has been integral to the growth of our Pilbara ports, and I wish him all the best for the future."
Latest News
(Posted on 26/11/23)
A 194 million euro investment in North Sea Port will secure large-scale CO2 reduction by the largest... Read more
(Posted on 17/11/23)
The Central Association of German Seaport Operators (ZDS) has called for a decisive German port policy... Read more
(Posted on 13/11/23)
A groundbreaking feasibility study has highlighted the potential for using clean ammonia to refuel ships... Read more
(Posted on 05/11/23)
IAPH has announced the ratification by the IAPH Council of the new IAPH Board. The Board is formed by... Read more
(Posted on 05/11/23)
CN has announced that it acquired from Genesee & Wyoming Inc., a stake in the Cape Breton &... Read more
(Posted on 31/10/23)
Due to continued very high inflation, the Hamburg Port Authority (HPA) will raise port fees by an average... Read more
(Posted on 31/10/23)
The UK's leading ports group, Associated British Ports (ABP), has appointed Jeff Gibb as Lead... Read more
(Posted on 26/10/23)
In the first nine months of 2023, there was 6% less throughput in the port of Rotterdam: 329.9 million... Read more
(Posted on 26/10/23)
After nine months, the total throughput of Port of Antwerp-Bruges was 204.4 million tonnes, a drop of... Read more
(Posted on 19/10/23)
LOGISTEC Corporation have announced that it has entered into an arrangement agreement with 1443373... Read more