Netherlands signs hydrogen declaration with Oman at COP27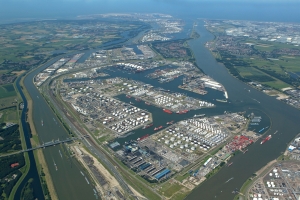 (Posted on 09/11/22)
At the COP27climate summit in Egypt, Netherlands Prime Minister Rutte has signed a declaration of intent with the government of Oman on hydrogen cooperation.
The aim is to set up import and export facilities for green hydrogen. This allows the Netherlands to work on accelerating the energy transition beyond its borders while at the same time creating opportunities to import part of this green hydrogen to make the Dutch industry and transport sector more sustainable.
The Port of Rotterdam Authority has close ties with Oman. For some 20 years, the Port Authority has had a joint venture with the government of Oman to develop and operate the port of Sohar in the north of the country.
The Port Authority is making efforts to set up import chains for hydrogen from countries where renewable energy can be generated at low cost and exported to Northwest Europe. These are mainly countries with plenty of space for generating renewable energy from solar and wind, such as Oman.
As the largest dry bulk port in Europe, the port of Rotterdam has all the facilities required for the storage and transhipment of dry bulk cargo.
Due to its ideal location and its unparalleled depth, even the largest dry bulk carriers can be accommodated by the port of Rotterdam without any impediments such as locks or tides. Furthermore, Rotterdam offers a broad selection of service providers for any type of dry bulk cargo, ranging from iron ore to grains to biomass and industrial minerals.
Latest News
(Posted on 02/06/23)
Vancouver Fraser Port Authority CEO Robin Silvester has announced that he will be leaving the port authority... Read more
(Posted on 31/05/23)
AD Ports Group , the Abu Dhabi based leading facilitator of global trade, logistics and industry, has... Read more
(Posted on 31/05/23)
The World Port Climate Action Program (WPCAP) will be extended with a new focus on shore power, new... Read more
(Posted on 30/05/23)
Ships sailing from the North Sea via the Westerschelde to unload dry bulk goods at OVET's quay in Vlissingen... Read more
(Posted on 23/05/23)
The problematic trend in the world economy is affecting Port of Hamburg throughput figures. As in other... Read more
(Posted on 23/05/23)
A senior delegation from United Arab Emirates (UAE) visited Karachi and met with H.E. Faisal Sabzwari... Read more
(Posted on 16/05/23)
Two new electric harbour cranes, representing an £8.6 million investment, are the latest arrivals... Read more
(Posted on 14/05/23)
At a ceremony held during the transport logistic trade fair in Munich, Algis Latakas, General Director... Read more
(Posted on 08/05/23)
Associated British Ports (ABP's) Port of Ipswich, the UK's leading grain export port, has... Read more
(Posted on 02/05/23)
AD Ports Group, the Abu Dhabi based leading facilitator of global trade, logistics and industry, has... Read more