Milwaukee promotes Polzin to Harbour Master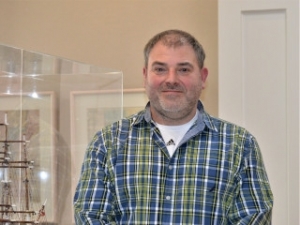 (Posted on 11/04/21)
The Milwaukee Board of Harbour Commissioners have approved the appointment of Eric Polzin to the position of Harbour Master. In his new role, Polzin will oversee operations at Port facilities and exercise regulatory and police powers over marine activity in the Milwaukee Harbour. His appointment is effective on June 14, 2021.
Polzin has worked at Port Milwaukee for thirteen years. During that time he has overseen projects, led staff, and planned major security and safety initiatives.
"Eric brings a great combination of knowledge, experience, and temperament to his new position. He will be responsible for managing transportation operations, facilities, and safety for tenants and users of Port Milwaukee," Port Director Adam Tindall-Schlicht said. "He has earned this promotion through hard work and solid accomplishments during his time with the Port."
Retiring Harbour Master Wayne Johnson has served in that role for more than a decade, and his tenure with the city has spanned more than four decades.
"Wayne has always been a leader we could count on. He managed both the routine and the unexpected with confidence and composure," Board of Harbour Commissioners Chair Tim Hoelter said. "The entire Board shares its best wishes with Wayne as he enters a well-deserved retirement."
In its regularly scheduled meeting today, the Board voted to honour Johnson by naming the Port's largest crawler crane as "Big Wayne." This crane, a Manitowoc 2250 Series, has a 150 ft. main boom. There is a tradition of naming cranes and Port vessels to honour former Mayors and revered Port retirees.
Port Milwaukee is an economic entity of City government governed by the seven-member Board of Harbor Commissioners, a panel appointed by Mayor Barrett and confirmed by the Common Council. It administers operations on the more than 400 acres that make up the Port. It promotes shipping and commerce throughout the region by providing access to domestic and international ships, rail, and over-the-road transportation.
Latest News
(Posted on 24/03/23)
LOGISTEC Corporation, a leading marine and environmental services provider, has announced its financial... Read more
(Posted on 24/03/23)
Terence Bowles, President and CEO of the St. Lawrence Seaway Management Corporation (SLSMC), and Adam... Read more
(Posted on 20/03/23)
Abu Dhabi based AD Ports Group, the leading facilitator of global trade, logistics, and industry, has... Read more
(Posted on 20/03/23)
Grain handling at the Port of Immingham is increasing thanks to the new opportunities presented by investment... Read more
(Posted on 07/03/23)
Marcor Stevedoring has signed a contract adding Liebherr's largest and most powerful mobile harbour... Read more
(Posted on 07/03/23)
AD Ports Group, an Abu Dhabi based leading facilitator of global trade, logistics, and industry, and... Read more
(Posted on 02/03/23)
LOGISTEC Stevedoring Inc., a subsidiary of LOGISTEC Corporation, a leading North American marine and... Read more
(Posted on 28/02/23)
End-of-year figures for total traffic in the Spanish Port of Bilbao stand at 32.7 million tonnes, up... Read more
(Posted on 24/02/23)
The Port of Sept-Îles and LOGISTEC Arrimage Inc. have announced that they have reached the impressive... Read more
(Posted on 24/02/23)
The war in Ukraine led to unprecedented changes in goods flows last year. At 467.4 million tonnes, total... Read more