Maintenance starts at Bowen Wharf, Queensland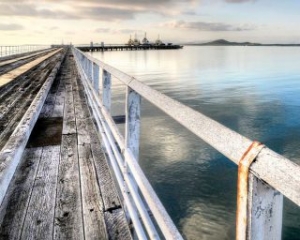 (Posted on 15/06/18)
Maintenance works are set to begin on the Bowen Wharf. North Queensland Bulk Ports Corporation (NQBP) acting CEO Rochelle Macdonald said the works included repairs to cracked concrete slab sections and some of the timber decking structure and the removal of deteriorated timber fender piles.
Weipa, Abbot Point, Mackay and Hay Point trading ports, and the non-trading port of Maryborough, all come under the care and authority of North Queensland Bulk Ports. More than half of Queensland's trade by tonnage passes through the operating ports.
"NQBP recognises the Bowen Wharf is a beloved public asset to the Bowen community as well as an operational asset to the Port of Abbot Point," Dr Macdonald said. "Throughout these works there will be no disruptions to public access along the wharf.
"Most works will be happening from a barge positioned alongside the wharf."
Local contractors Pilchers have been engaged to complete the onshore works while Townsville-based Pacific Marine Group will be completing the offshore works.
"NQBP is working with operational users of Bowen Wharf, Bowen Towage, to ensure there is minimal disruption to business during the works," Dr Macdonald said.
"The safety of all users is of the upmost importance to NQBP.
"While the fender piles are being removed, small sections of the wharf will be temporarily closed for public safety."
There will be a total of 51 redundant fender piles removed over a two-week period, which will be transferred to a site adjacent to the Port Denison Sailing Club for storage.
Latest News
(Posted on 02/06/23)
Vancouver Fraser Port Authority CEO Robin Silvester has announced that he will be leaving the port authority... Read more
(Posted on 31/05/23)
AD Ports Group , the Abu Dhabi based leading facilitator of global trade, logistics and industry, has... Read more
(Posted on 31/05/23)
The World Port Climate Action Program (WPCAP) will be extended with a new focus on shore power, new... Read more
(Posted on 30/05/23)
Ships sailing from the North Sea via the Westerschelde to unload dry bulk goods at OVET's quay in Vlissingen... Read more
(Posted on 23/05/23)
The problematic trend in the world economy is affecting Port of Hamburg throughput figures. As in other... Read more
(Posted on 23/05/23)
A senior delegation from United Arab Emirates (UAE) visited Karachi and met with H.E. Faisal Sabzwari... Read more
(Posted on 16/05/23)
Two new electric harbour cranes, representing an £8.6 million investment, are the latest arrivals... Read more
(Posted on 14/05/23)
At a ceremony held during the transport logistic trade fair in Munich, Algis Latakas, General Director... Read more
(Posted on 08/05/23)
Associated British Ports (ABP's) Port of Ipswich, the UK's leading grain export port, has... Read more
(Posted on 02/05/23)
AD Ports Group, the Abu Dhabi based leading facilitator of global trade, logistics and industry, has... Read more