MAG's volumes increase despite Covid challenge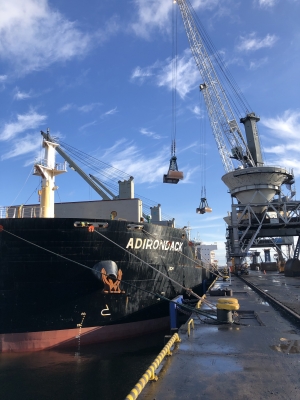 (Posted on 28/04/21)
Despite the challenges of Covid-19, Morska Agencja Gdynia (MAG), in Poland, has performed even better than the year prior to the pandemic.
Headquartered in Gdynia and with unique experience stretching back 70 years, MAG is a leading player in Poland's maritime sector with a wide scope of services and expertise.
Marek Kowalski, Managing Director of Eubaltica, who provide consultancy services to MAG told IBJ, "I have noticed more bulk goods in MAG's volumes, including coal, coke and fertilizers and, of course, turnover of project cargoes are increasing due to the fact that MAG is involved in the logistics and agency business of windmills being imported and exported from Polish ports. The container division of MAG and road transport are also going well."
MAG was founded in 1951 and is one of the oldest enterprises in the transport and logistics sector operating in the Polish market. Every day the MAG team coordinates dozens of logistics and transport operations; the company serves over 1,000 vessels annually, of which about 30 percent carry bulk cargoes such as aggregates, fertilizers , wood logs, wood chips, grain, coke and coal, chemical products and wheat pellets.
MAG represents foreign shipping lines, shipowners and P&I Clubs in Poland and is a member of The Baltic International Maritime Council (BIMCO) and The Ship Agent and Brokers Association at Gdynia. In Polish ports and shipyards the enterprise provides agency services for Polish vessels and foreign flags. Over time, the company extended its range of activity to include chartering ships, port operations and container shipments as well as an employment agency for Polish mariners on ships under foreign flags. MAG operates in Gdansk, Szczecin, Swinoujscie, Darlowo and all other Polish sea ports and is an important player in the market.
Latest News
(Posted on 07/12/23)
ClassNK has issued Approvals in Principle (AiPs) for four cutting-edge ship designs developed by Marine... Read more
(Posted on 07/12/23)
A smartship partnership bringing together ship management company Laskaridis Shipping, digital technology... Read more
(Posted on 07/12/23)
ABB has launched a new digital tool allowing shipowners, operators and designers to estimate the emission... Read more
(Posted on 03/12/23)
The Dry Bulk and LNG segments have borne the brunt of restricted transits, particularly due to their... Read more
(Posted on 03/12/23)
Columbia Shipmanagement (CSM) is set to further boost operational efficiency on its vessels, as crew... Read more
(Posted on 26/11/23)
Shi.E.L.D. Services has selected Spinergie as its preferred digitized solution provider to monitor and... Read more
(Posted on 26/11/23)
Thousands of cadets and trainees in India will benefit from in-depth wellness training and support thanks... Read more
(Posted on 17/11/23)
As shipping continues its journey to decarbonisation, INTERCARGO will host a special forum in Athens... Read more
(Posted on 13/11/23)
INTERCARGO was deeply saddened and concerned to hear of the reported appalling missile attack on the... Read more
(Posted on 13/11/23)
A new-look Wellness at Sea Awareness Campaign for seafarers, their families and shore staff that &ldquo... Read more