Logistec to expand North American network with FMT acquisition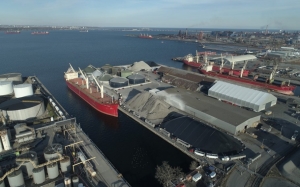 (Posted on 02/03/23)
LOGISTEC Stevedoring Inc., a subsidiary of LOGISTEC Corporation, a leading North American marine and environmental services provider, has announced that it has entered into a definitive agreement to acquire the Canadian and U.S. marine terminal business of Fednav, including Federal Marine Terminals, Inc. and the logistics division, Fednav Direct (collectively, "FMT"), for a purchase price of US$105 million, subject to customary adjustments. This transaction will allow LOGISTEC to strengthen its presence in Canada and the United States and add specialized expertise to its service offering.
FMT has operated terminal facilities at ports in Canada and the United States for over five decades. Recognized as an industry leader in marine terminal operations, it provides stevedoring, handling and warehousing services for bulk, containerized, project cargo, and general cargo. FMT also offers value-added on-carriage services, inventory management, and 24/7 inland cargo transportation in Canada and the United States. For the year ended December 31, 2022, FMT generated revenue of US$89.8 million (approximately CA$116.8 million) with gross margins comparable to LOGISTEC's marine segment.
The addition of 11 terminals represents a major expansion of LOGISTEC's network, bringing its total to 90 terminals in 60 ports across North America. The combined network will provide strategic gateways for existing and future customers, allowing LOGISTEC to gain an important foothold in the Great Lakes region and access prime locations in the U.S. Gulf and East Coast regions.
"We are delighted to welcome FMT to continue to grow together across Canada and the USA," said Madeleine Paquin, President and CEO of LOGISTEC. LOGISTEC and FMT have had a long-standing business relationship for decades and joining forces is a natural fit, as we share the same values. The combined capabilities and expertise of both organizations will create solid synergies to deliver operational excellence to marine shippers across North America."
"LOGISTEC, a company with cargo handling as its core business, will ensure FMT's ongoing success and growth, stated Paul Pathy, Fednav's CEO and President. In the coming years, Fednav will focus on its pure-play shipping business and continue its expansion journey. Known to innovate and provide the highest standard of service for over 75 years, Fednav has an exciting new chapter ahead."
"As part of LOGISTEC's ambitious strategic plan to expand its marine services both geographically and operationally, this acquisition will allow us to gain a footprint in new markets in Canada and the USA," added Rodney Corrigan, President of LOGISTEC Stevedoring Inc. "Our customers will benefit from a large and efficient network, as well as strong expertise from the FMT team, and together, we will continue to offer quality service to contribute to a safe, reliable supply chain."
LOGISTEC will benefit from FMT's solid reputation for excellence in marine terminal operations and a team that is well-trained and safety-oriented, using modern equipment to ensure quality services for its customers.
The transaction is expected to close on or about March 31, 2023, subject to customary closing conditions. The transaction will be financed via an increased CA$450 million revolving credit facility, which has been fully underwritten by BMO Bank of Montréal and TD Securities.
Latest News
(Posted on 26/11/23)
A 194 million euro investment in North Sea Port will secure large-scale CO2 reduction by the largest... Read more
(Posted on 17/11/23)
The Central Association of German Seaport Operators (ZDS) has called for a decisive German port policy... Read more
(Posted on 13/11/23)
A groundbreaking feasibility study has highlighted the potential for using clean ammonia to refuel ships... Read more
(Posted on 05/11/23)
IAPH has announced the ratification by the IAPH Council of the new IAPH Board. The Board is formed by... Read more
(Posted on 05/11/23)
CN has announced that it acquired from Genesee & Wyoming Inc., a stake in the Cape Breton &... Read more
(Posted on 31/10/23)
Due to continued very high inflation, the Hamburg Port Authority (HPA) will raise port fees by an average... Read more
(Posted on 31/10/23)
The UK's leading ports group, Associated British Ports (ABP), has appointed Jeff Gibb as Lead... Read more
(Posted on 26/10/23)
In the first nine months of 2023, there was 6% less throughput in the port of Rotterdam: 329.9 million... Read more
(Posted on 26/10/23)
After nine months, the total throughput of Port of Antwerp-Bruges was 204.4 million tonnes, a drop of... Read more
(Posted on 19/10/23)
LOGISTEC Corporation have announced that it has entered into an arrangement agreement with 1443373... Read more