Liverpool's boost for UK agriculture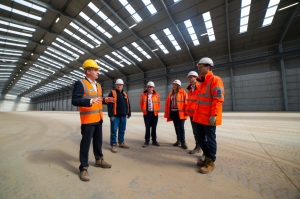 (Posted on 24/04/19)
Global animal feed trader and supply chain leader ADM Agriculture (formerly ADM Arkady) has completed its £7.4m expansion at the Port of Liverpool, providing the equivalent of two football pitches of extra capacity for trade in bulk agricultural goods. This makes the Liverpool animal feed store the largest in the UK.
In 2018, the company signed a long-term contract with Peel Ports Group to invest in Liverpool and Glasgow with the aim of achieving imports across the North of England and Scotland of 1 million tonnes each year.
As well as the new warehouse at Liverpool which has been expanded by 140,000 sq ft, ADM Agriculture have filled 470,000 sq ft of capacity at Clydeport. .The company has also started using Great Yarmouth Port for the first time to import animal feed, to service local markets near the port in the farming and fertiliser community.
Graham Atkinson, Joint Managing Director, ADM Agriculture said: "The combination of Peel Ports' locations and service with our product range is great for our end customers in agriculture. The reach and efficiencies we're now achieving means we can offer even better value, helping UK food producers to succeed."
Mark Whitworth, CEO Peel Ports Group, said: "We're building a long-term partnership with ADM, one that now extends to three of our ports. Our network means we're uniquely well placed to provide access to the most important markets in the UK, with the quality of service to ensure they deliver for their customers."
The project involved construction of warehousing and installation of specialist conveyor equipment which pulled on the skills of civil, mechanical and electrical trades.
Construction took place simultaneously to the continuing live operation of the animal feed facility. 21,000 accident free working hours went into the project, which was completed ahead of schedule in just nine months.
ADM Arkady have renamed themselves ADM Agriculture Ltd, following a merger with Gleadell and ADM Direct.
Peel Ports Group is the UK's second largest port group, owning and operating six of the UK's most important ports (Liverpool, Heysham, Manchester Ship Canal, Medway (Sheerness / Chatham), Clydeport and Great Yarmouth). It also operates a container terminal in Dublin and owns BG Freight shipping line, which provides short sea container services between the UK, Ireland and mainland Europe and feeder services between the UK and Ireland.
Headquartered in Liverpool, Peel Ports handles 60million tonnes of cargo every year. 13% of the total UK major ports traffic flows through ports operated by the Group.
Latest News
(Posted on 28/03/23)
Canadian Pacific has said that, on 14 April, 2023, it will exercise the authority granted by the U.S... Read more
(Posted on 24/03/23)
LOGISTEC Corporation, a leading marine and environmental services provider, has announced its financial... Read more
(Posted on 24/03/23)
Terence Bowles, President and CEO of the St. Lawrence Seaway Management Corporation (SLSMC), and Adam... Read more
(Posted on 20/03/23)
Abu Dhabi based AD Ports Group, the leading facilitator of global trade, logistics, and industry, has... Read more
(Posted on 20/03/23)
Grain handling at the Port of Immingham is increasing thanks to the new opportunities presented by investment... Read more
(Posted on 07/03/23)
Marcor Stevedoring has signed a contract adding Liebherr's largest and most powerful mobile harbour... Read more
(Posted on 07/03/23)
AD Ports Group, an Abu Dhabi based leading facilitator of global trade, logistics, and industry, and... Read more
(Posted on 02/03/23)
LOGISTEC Stevedoring Inc., a subsidiary of LOGISTEC Corporation, a leading North American marine and... Read more
(Posted on 28/02/23)
End-of-year figures for total traffic in the Spanish Port of Bilbao stand at 32.7 million tonnes, up... Read more
(Posted on 24/02/23)
The Port of Sept-Îles and LOGISTEC Arrimage Inc. have announced that they have reached the impressive... Read more