Liverpool hosts shipping minister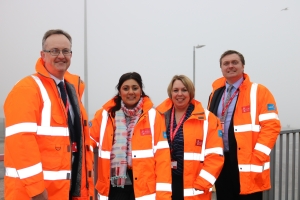 (Posted on 31/01/20)
The Port of Liverpool welcomed Shipping Minister Nusrat Ghani MP last week as she visited the heart of Merseyside's maritime community.
The Minister was given a tour of the port and heard about Peel Ports' plans to help UK-based businesses reach overseas markets.
The visit followed trips earlier in the day to the offices of trade body Mersey Maritime and a new 'knowledge hub' being built on the Wirral.
Nusrat Ghani MP said: "I've been working with Mersey Maritime and Peel Ports for the last couple of years and it's been fantastic to finally see everything that we've talked about in person. Maritime companies in the region are doing an excellent job and will be crucial to helping us deliver on our economic ambitions. We have a 30 year strategy to be global leaders in the maritime sector and I look forward to working with the whole sector to achieve that goal."
Mark Whitworth, CEO Peel Ports Group said: "At a time of significant change the maritime sector needs to keep logistics simple. Using ports closest to the origin and destination minimises the impact on our constrained road and rail infrastructure and is more environmentally responsible. Reducing the dependency on key southern ports, ports like Liverpool have the ability to play a pivotal role in supporting the regeneration of the North. This is also enabled in some cases by changing mode. A switch from RORO trailer freight on the cross-channel routes to containerised cargo, between the continent and Irish Sea ports, can mitigate the impact of post-Brexit congestion on businesses operating in the North-West, Scotland and Ireland."
Peel Ports Group is the UK's second largest port group, owning and operating six of the UK's most important ports (Liverpool, Heysham, Manchester Ship Canal, Medway (Sheerness / Chatham), Clydeport and Great Yarmouth). Peel Ports Group has recently acquired Quality Freight (UK), which provides chartering and port services from a 40 acre multi modal facility at Ellesmere Port in Cheshire.
Peel Ports handles 60 million tonnes of cargo every year. 13% of the total UK major ports traffic flows through ports operated by the Group. Headquartered in Liverpool, it employs around 1,600 staff, and had revenue of £760m and EBITDA of £266m for the year ended 31 March 2019.
Latest News
(Posted on 02/06/23)
Vancouver Fraser Port Authority CEO Robin Silvester has announced that he will be leaving the port authority... Read more
(Posted on 31/05/23)
AD Ports Group , the Abu Dhabi based leading facilitator of global trade, logistics and industry, has... Read more
(Posted on 31/05/23)
The World Port Climate Action Program (WPCAP) will be extended with a new focus on shore power, new... Read more
(Posted on 30/05/23)
Ships sailing from the North Sea via the Westerschelde to unload dry bulk goods at OVET's quay in Vlissingen... Read more
(Posted on 23/05/23)
The problematic trend in the world economy is affecting Port of Hamburg throughput figures. As in other... Read more
(Posted on 23/05/23)
A senior delegation from United Arab Emirates (UAE) visited Karachi and met with H.E. Faisal Sabzwari... Read more
(Posted on 16/05/23)
Two new electric harbour cranes, representing an £8.6 million investment, are the latest arrivals... Read more
(Posted on 14/05/23)
At a ceremony held during the transport logistic trade fair in Munich, Algis Latakas, General Director... Read more
(Posted on 08/05/23)
Associated British Ports (ABP's) Port of Ipswich, the UK's leading grain export port, has... Read more
(Posted on 02/05/23)
AD Ports Group, the Abu Dhabi based leading facilitator of global trade, logistics and industry, has... Read more