King's Lynn invests in grain capacity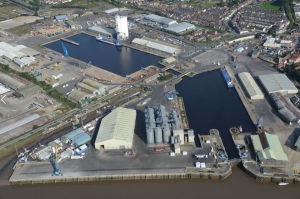 (Posted on 15/10/19)
ABP has recently re-opened its Bentinck silo at the Port of King's Lynn, following a £400,000 refurbishment to enhance storage capacity.
ABP is the UK's leading and best-connected port owner and operator with a network of 21 ports around Britain.
Following significant expansion, the silo now offers ABP's customers in King's Lynn an additional 6,000 metric tonnes (mt) of grain storage. This represents an expansion in silo storage capacity of almost 25%, to 32,000mt in total, across 40 individual bins. The silo is also an ideal location for blending and storing smaller commodity volumes, providing customers with even greater flexibility.
Customers using the silo will also be able to benefit from the excellent weighbridge facilities as well as an additional grain processing lab located at the port, which provides quality-testing equipment.
Kim Kennedy, ABP Port Manager at the Port of King's Lynn, said: "We are always striving to provide the best storage and value-added solutions for our customers and this latest investment is a prime example of this.
"It was great to see grain coming over the weighbridge and being seamlessly fed into the silo, allowing our customers to benefit from the enhanced operational efficiency."
Latest News
(Posted on 07/12/23)
US Port owners should start immediate planning to take advantage of the $3bn available in grants as... Read more
(Posted on 07/12/23)
The Vancouver Fraser Port Authority's board of directors has announced that it has appointed Peter... Read more
(Posted on 03/12/23)
In the presence of Kassym-Jomart Tokayev, President of the Republic of Kazakhstan, AD Ports Group, a... Read more
(Posted on 03/12/23)
Lhyfe, a global pioneer in the production of renewable green hydrogen for transportation and industrial... Read more
(Posted on 26/11/23)
A 194 million euro investment in North Sea Port will secure large-scale CO2 reduction by the largest... Read more
(Posted on 17/11/23)
The Central Association of German Seaport Operators (ZDS) has called for a decisive German port policy... Read more
(Posted on 13/11/23)
A groundbreaking feasibility study has highlighted the potential for using clean ammonia to refuel ships... Read more
(Posted on 05/11/23)
IAPH has announced the ratification by the IAPH Council of the new IAPH Board. The Board is formed by... Read more
(Posted on 05/11/23)
CN has announced that it acquired from Genesee & Wyoming Inc., a stake in the Cape Breton &... Read more
(Posted on 31/10/23)
Due to continued very high inflation, the Hamburg Port Authority (HPA) will raise port fees by an average... Read more