JAXPORT bonds maintain 'A' rating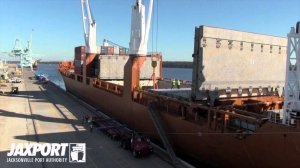 (Posted on 06/05/20)
Fitch Ratings has affirmed its long-term 'A' rating on Jacksonville Port Authority's (JAXPORT) $129.8 million in outstanding revenue bonds, citing the port's strategic location, intermodal and infrastructure connectivity and diverse revenue base.
JAXPORT offers worldwide cargo service from dozens of ocean carriers, including direct service with Europe, Africa, South America, the Caribbean and other key markets. Dry bulk materials such as limestone and gravel have dedicated berth space and are poured onto 41 acres at JAXPORT's Dames Point Marine Terminal.
"The rating reflects JAXPORT's versatile financial and operating position even in light of volatility stemming from the coronavirus pandemic," according to Fitch.
"The ability to maintain our strong credit rating during this time speaks volumes about the strength and resiliency of our port," said JAXPORT CEO Eric Green. "Our diversification across trade lanes and business lines, along with our strategic location in the in-demand Southeast U.S. region, positions us for continued success well into the future."
JAXPORT is an international trade seaport offering direct ocean carrier services to 140 ports in 70 countries. The port offers fast access to 70 million U.S. consumers via 100 trucking firms, three major interstates, and 40 daily trains. The port boasts more than 1 million square feet of on-dock warehousing storage and millions of square feet of additional space are located within minutes of port terminals.
Latest News
(Posted on 03/12/23)
In the presence of Kassym-Jomart Tokayev, President of the Republic of Kazakhstan, AD Ports Group, a... Read more
(Posted on 03/12/23)
Lhyfe, a global pioneer in the production of renewable green hydrogen for transportation and industrial... Read more
(Posted on 26/11/23)
A 194 million euro investment in North Sea Port will secure large-scale CO2 reduction by the largest... Read more
(Posted on 17/11/23)
The Central Association of German Seaport Operators (ZDS) has called for a decisive German port policy... Read more
(Posted on 13/11/23)
A groundbreaking feasibility study has highlighted the potential for using clean ammonia to refuel ships... Read more
(Posted on 05/11/23)
IAPH has announced the ratification by the IAPH Council of the new IAPH Board. The Board is formed by... Read more
(Posted on 05/11/23)
CN has announced that it acquired from Genesee & Wyoming Inc., a stake in the Cape Breton &... Read more
(Posted on 31/10/23)
Due to continued very high inflation, the Hamburg Port Authority (HPA) will raise port fees by an average... Read more
(Posted on 31/10/23)
The UK's leading ports group, Associated British Ports (ABP), has appointed Jeff Gibb as Lead... Read more
(Posted on 26/10/23)
In the first nine months of 2023, there was 6% less throughput in the port of Rotterdam: 329.9 million... Read more