Iwagi Island calls at Vancouver USA on maiden voyage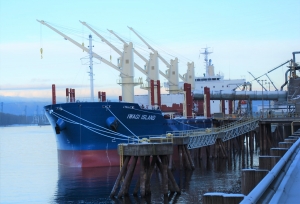 (Posted on 11/03/19)
The Port of Vancouver USA has welcomed the Iwagi Island, commanded by Capt. Yi Hai Yu of China, on her maiden voyage.
Capt. Yu and his 17-member Chinese crew were welcomed to the Port of Vancouver by representatives from Kinder Morgan Bulk Terminals, Cascade Marine Agencies Ltd. and General Steamship Agencies.
The Iwagi Island is a 590-foot-long Handymax bulk carrier built in Imabari, Japan. She is owned by Iwagi Island Limited and operated by Pacific Basin Shipping (HK) Limited.
Handymax bulk carriers typically have a deadweight capacity of up to 60,000 metric tons and are used to transport cargoes like cement, steel, lumber and mineral ores. The Handymax bulker is a versatile vessel; due to their size and configuration, they can be used to carry nearly any dry bulk cargo and can load or unload at a variety of ports around the world.
The Iwagi Island departed Japan for the U.S. in January 2019. She will load approximately 26,000 metric tons of copper concentrate at the Port of Vancouver USA before departing for ports in the Black Sea.
The Port of Vancouver USA is one of the major ports on the Pacific Coast, and its competitive strengths include available land, versatile cargo handling capabilities, vast transportation networks, a skilled labor force and an exceptional level of service to its customers and community The port is primarily a bulk import and export facility with dedicated facilities for specific commodities, such as grain, soy beans, corn, mineral ores, concentrates, fertilizers, clays, bauxite and agricultural commodities. Other bulk commodities are handled on a case-by-case basis.
Latest News
(Posted on 26/09/23)
The Port of Rotterdam Authority and Yokogawa Electric Corporation have initiated a feasibility study... Read more
(Posted on 19/09/23)
HES Gdynia in Poland has started the construction works of a grain storage facility extension in port... Read more
(Posted on 12/09/23)
A joint Statement from the United States and the European Union has been released on support for Angola... Read more
(Posted on 08/09/23)
Associated British Ports has announced the successful renewal of a lease agreement with Breedon Group... Read more
(Posted on 04/09/23)
In North Sea Port, the transportation of goods to the hinterland by inland waterway continues to increase... Read more
(Posted on 28/08/23)
Both the tense economic situation in Europe, especially in Germany, and background geopolitical factors... Read more
(Posted on 21/08/23)
Abu Dhabi based AD Ports Group has announced its financial results for the second quarter of 2023, reporting... Read more
(Posted on 14/08/23)
SOHAR Port and Freezone in the Sultanate of Oman, has signed a land lease agreement with Sohar Noble... Read more
(Posted on 09/08/23)
CN has published its 2023-2024 Grain Plan, which builds on the operational improvements introduced this... Read more
(Posted on 02/08/23)
The Maritime Standard is delighted to announce the unveiling of the second session, titled 'Ports and... Read more