Incoming BPA Chair praises port resilience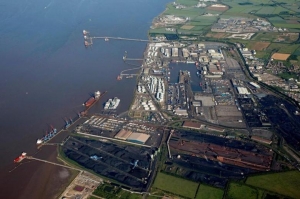 (Posted on 29/04/21)
The British Ports Association's (BPA) Annual General Meeting and briefing session held today, 27 April 2021, was headed by the newly elected BPA Chair Neil Glendinning.
Mr Glendinning, Chief Executive of Harwich Haven Authority, praised the ports industry for their steadfast and resolute work throughout the Covid-19 pandemic when other industries were scaling back operations. Mr Glendinning also touched upon key developments in BPA policy, including the necessity for sustainable economic growth in the form of Freeports.
Mr Glendinning said, "The hard work and resolve of the ports sector during these trying and unprecedented times has demonstrated the resilience of this essential industry.
While the last twelve months have been difficult for everyone, the next twelve months present an opportunity for the ports sector to pursue a recovery effort that prioritises decarbonisation and a robust logistical network capable of dealing with such unforeseen events. Further items expected to feature heavily on the agenda is the changing role of globalisation and achieving sustainable economic growth for regional communities."
UK Maritime Minister Robert Courts MP joined part of the online AGM and briefing session to outline the key challenges and opportunities facing the maritime sector, and how government policy can support this. He also answered questions submitted by members of the BPA. Robert Courts MP commented, "I am proud of the progress taken by the ports industry on the priorities as set out in our Maritime 2050 strategy. Our ports play a critical role in ensuring goods such as food and medicines, continue to flow into the country regardless of any challenges faced."
Due to continuing Covid-19 restrictions, the event was held virtually. In addition to these talks, members of the BPA elected Andy Jones, Chief Executive at the Port of Milford Haven, as the new Deputy Chair, and Maurice Bullick, Finance and Compliance Director at Belfast Harbour, as Honorary Treasurer. Both of these roles, in addition to the Chair, will be for a term of two years. The full list of BPA Officers and Council members can be viewed here.
Also on the agenda for the AGM today was the adoption of the BPA's 2020 Annual Report and Annual Accounts, the BPA 's Treasurer gave an update on the BPA's finances, and changes to the BPA's Constitution were agreed.
Latest News
(Posted on 27/01/23)
In addition to helping its 12 member ports decarbonize, the World Ports Climate Action Program (WPCAP... Read more
(Posted on 27/01/23)
The first ship of the year, M/V Cape Alexandros, arrived at 11:00 a.m. on January 4, 2023, from Rotterdam... Read more
(Posted on 27/01/23)
AD Ports Group the leading facilitator of global trade, logistics, and industry, has signed a Memorandum... Read more
(Posted on 23/01/23)
In the presence of the UAE President His Highness Sheikh Mohamed bin Zayed Al Nahyan, and the President... Read more
(Posted on 16/01/23)
The Port of South Louisiana (Port SL) CEO Paul Matthews, has announced that it has entered into a Purchase... Read more
(Posted on 16/01/23)
With 73.6 million tons of cargo transhipment from maritime shipping (+7%) and 64.5 million tons from... Read more
(Posted on 12/01/23)
Despite unfavourable economic conditions, traffic in the port of Dunkerque, the third largest port in... Read more
(Posted on 10/01/23)
North Sea Port CEO Daan Schalck has been looking back as well as forward. 2022, was a year in which... Read more
(Posted on 10/01/23)
A multi-million-pound deal has been agreed to build a new road salt storage facility to support Scotland... Read more
(Posted on 10/01/23)
Ports Minister Rita Saffioti has announced Samuel McSkimming as the new CEO of the Pilbara Ports Authority... Read more