Imperial to sell South American shipping business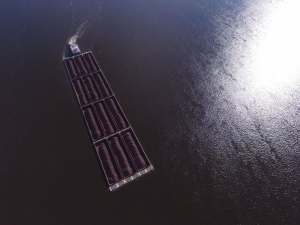 (Posted on 20/04/21)
The board of Imperial, an African focused provider of integrated market access and logistics solutions, has announced that it has entered into an agreement for the sale of its South American shipping business to Hidrovias do Brasil S.A., an independent integrated logistics provider focused on waterways logistics services in Latin America. The closing date of the transaction was 16 April 2021.
Hidrovias do Brasil S.A. is an independent integrated logistics provider focused on waterways logistics services in Latin America. Founded in 2010, the company operates in large logistics corridors in the north of Brazil (Tapajós-Amazon Rivers) and in the Paraguay-Paraná river system. In the Northern Corridor (Miritituba-Barcarena, Pará), Hidrovias do Brasil S.A. offers an integrated logistics solution to transport grains from the midwest region of Brazil to an export port. In the South Corridor, operations use the Paraguay-Paraná rivers system, where Hidrovias do Brasil S.A. transports over 6 million tons per year of cargo, such as, iron ore, grains, fertilizers, pulp and others. Since the second quarter of 2020, the company also began operations in the Santos Terminal, the largest port in Brazil located in the state of Sao Paulo, with trans-shipment and storage of salt and fertilizers.
The agreed maximum enterprise value for the interest in the South American Operations is USD90.0 million (approximately ZAR1,305 million) which equates to a multiple of 9.6X FY2020 reported EBITDA. The enterprise value includes an earn-out component of up to USD5.0 million (approximately ZAR73 million), which is payable dependent on water levels over the 4-year period commencing on 1 January 2021.
As previously communicated to the market, it is Imperial's strategic intent to become a 'One Imperial' business and serve as the 'Gateway to Africa' to our clients, principals, and customers. We are transforming from a portfolio of regional businesses to an integrated end-to-end logistics and market access business that is focused on Africa, leveraging our scale, competitive advantages and capabilities in the healthcare, consumer, chemicals, automotive, and industrial and commodities industries. As such, we thoroughly assessed the strategic fit of our Logistics International business and decided to exit this business in a phased approach as it is non-core. The South American shipping business forms part of this process and follows the disposal of the European shipping business, which was concluded on 31 July 2020. The remaining freight management and contract logistics operations within the International Logistics business remain for sale and we are in the process of disposing of these, as announced at the group's F2021 interim results on 23 February 2021.
"Hidrovias do Brasil S.A. is well positioned to operate the business sustainably based on long-standing customer relationships and a highly skilled, experienced and motivated work force," says Mohammed Akoojee, Imperial's Group Chief Executive Officer. "We believe that this is the most suitable home for the South American shipping business and its people."
"This acquisition gives us a very important operational flexibility which will allow us to complement our navigation capacity and operate in regions where we currently do not access" says Fabio Schettino, Hidrovias do Brasil S.A. CEO.
Latest News
(Posted on 26/11/23)
A 194 million euro investment in North Sea Port will secure large-scale CO2 reduction by the largest... Read more
(Posted on 17/11/23)
The Central Association of German Seaport Operators (ZDS) has called for a decisive German port policy... Read more
(Posted on 13/11/23)
A groundbreaking feasibility study has highlighted the potential for using clean ammonia to refuel ships... Read more
(Posted on 05/11/23)
IAPH has announced the ratification by the IAPH Council of the new IAPH Board. The Board is formed by... Read more
(Posted on 05/11/23)
CN has announced that it acquired from Genesee & Wyoming Inc., a stake in the Cape Breton &... Read more
(Posted on 31/10/23)
Due to continued very high inflation, the Hamburg Port Authority (HPA) will raise port fees by an average... Read more
(Posted on 31/10/23)
The UK's leading ports group, Associated British Ports (ABP), has appointed Jeff Gibb as Lead... Read more
(Posted on 26/10/23)
In the first nine months of 2023, there was 6% less throughput in the port of Rotterdam: 329.9 million... Read more
(Posted on 26/10/23)
After nine months, the total throughput of Port of Antwerp-Bruges was 204.4 million tonnes, a drop of... Read more
(Posted on 19/10/23)
LOGISTEC Corporation have announced that it has entered into an arrangement agreement with 1443373... Read more