IJmuiden lock gates on the way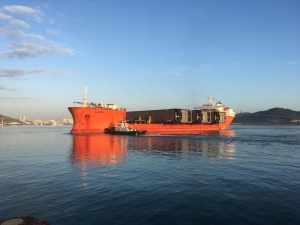 (Posted on 01/11/18)
The gates of the new sea lock at IJmuiden are on their way to the Netherlands. The gates left South Korea by ship this week. They are expected to be underway for about two months.
Ijmuiden is located at the mouth of the North Sea Canal to Amsterdam, the second largest coal and agribulk transhipment port in Europe and world's largest cocoa port and has excellent hinterland connections.
A total of three lock gates are on board the ship. Two of them will be put in operation; the third one will be used as a spare gate. At this moment, OpenIJ is busy with the sinking operation of the lock gate chamber on the seaward side into which one of the operational gates will be fitted. Each of the lock gates is 72 metres long, 24 metres high and 11 metres wide. They weigh about 2,900 tons each. The gates are transported on their sides on what is called a heavy lift ship. This heavy lift ship has a width of 45 metres and as the gates are 72 metres wide they stick out metres on both sides.
To accommodate increasingly larger ships, a new sea lock is being built at IJmuiden. The construction started in 2016. It will be the largest sea lock in the world. The sea lock ensures that ships can access the ports and port businesses along the North Sea Canal in a safe and efficient way, irrespective of the tide.
The new sea lock will be 500 metres long, 70 metres wide and 18 metres deep. The project is a joint venture of the Ministry of Infrastructure and Water Management, the Province of North Holland, the Municipality of Amsterdam, the Port of Amsterdam and the Municipality of Velsen. The OpenIJ group of contractors is building the new sea lock on behalf of Rijkswaterstaat, the Directorate-General for Public Works and Water Management.
Latest News
(Posted on 02/06/23)
Vancouver Fraser Port Authority CEO Robin Silvester has announced that he will be leaving the port authority... Read more
(Posted on 31/05/23)
AD Ports Group , the Abu Dhabi based leading facilitator of global trade, logistics and industry, has... Read more
(Posted on 31/05/23)
The World Port Climate Action Program (WPCAP) will be extended with a new focus on shore power, new... Read more
(Posted on 30/05/23)
Ships sailing from the North Sea via the Westerschelde to unload dry bulk goods at OVET's quay in Vlissingen... Read more
(Posted on 23/05/23)
The problematic trend in the world economy is affecting Port of Hamburg throughput figures. As in other... Read more
(Posted on 23/05/23)
A senior delegation from United Arab Emirates (UAE) visited Karachi and met with H.E. Faisal Sabzwari... Read more
(Posted on 16/05/23)
Two new electric harbour cranes, representing an £8.6 million investment, are the latest arrivals... Read more
(Posted on 14/05/23)
At a ceremony held during the transport logistic trade fair in Munich, Algis Latakas, General Director... Read more
(Posted on 08/05/23)
Associated British Ports (ABP's) Port of Ipswich, the UK's leading grain export port, has... Read more
(Posted on 02/05/23)
AD Ports Group, the Abu Dhabi based leading facilitator of global trade, logistics and industry, has... Read more