Hydrex restores efficiency to bulker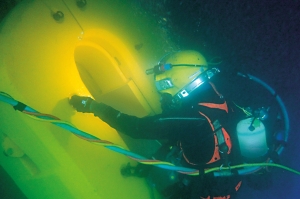 (Posted on 04/11/19)
When damage to propellers occurs due to impact with ice and other debris Hydrex can help you, even if the damage is quite extensive.
A ship with bent or cracked propeller blades might experience severe vibrations while sailing. The classification society might demand a repair before the vessel is allowed to continue its voyage. Hydrex teams can restore the propeller's balance and efficiency, resulting in class approval.
By taking advantage of the in-house developed cold straightening technique, damaged blades can be straightened underwater, allowing the ship to return to commercial operations without the need to drydock.
If straightening is not an option, the affected area of the blade will be cropped. This is done to achieve the greatest possible efficiency. Cropping is carried out using Hydrex propeller blade cutting equipment.
The company's teams can also carry out any other repair work on the propeller. Examples of this are the removal and reinstallation of entire propeller blades or replacement of the propeller seal ring.
For example, the four blades of a 190-meter bulk carrier's propeller were severely bent. An on-site solution was needed to restore the propeller's balance and efficiency. A team was therefore mobilized to C?m Ph?, Vietnam.
The divers started the operation with a detailed survey of the affected propeller blades. The inspection revealed that the four blades were bent over angles of 90 to almost 180 degrees.
The team then used the information acquired during the inspection to calculate and determine the exact measurements needed to modify the trailing edges of the propeller blades.
Next the divers cropped the blades and ground their edges to give them the correct radius. When the cropping was complete, they polished the blades to make sure that any remaining loss of efficiency would be minimal.
Latest News
(Posted on 07/12/23)
ClassNK has issued Approvals in Principle (AiPs) for four cutting-edge ship designs developed by Marine... Read more
(Posted on 07/12/23)
A smartship partnership bringing together ship management company Laskaridis Shipping, digital technology... Read more
(Posted on 07/12/23)
ABB has launched a new digital tool allowing shipowners, operators and designers to estimate the emission... Read more
(Posted on 03/12/23)
The Dry Bulk and LNG segments have borne the brunt of restricted transits, particularly due to their... Read more
(Posted on 03/12/23)
Columbia Shipmanagement (CSM) is set to further boost operational efficiency on its vessels, as crew... Read more
(Posted on 26/11/23)
Shi.E.L.D. Services has selected Spinergie as its preferred digitized solution provider to monitor and... Read more
(Posted on 26/11/23)
Thousands of cadets and trainees in India will benefit from in-depth wellness training and support thanks... Read more
(Posted on 17/11/23)
As shipping continues its journey to decarbonisation, INTERCARGO will host a special forum in Athens... Read more
(Posted on 13/11/23)
INTERCARGO was deeply saddened and concerned to hear of the reported appalling missile attack on the... Read more
(Posted on 13/11/23)
A new-look Wellness at Sea Awareness Campaign for seafarers, their families and shore staff that &ldquo... Read more