HOST sails first vessel on Mississippi with 50 feet draft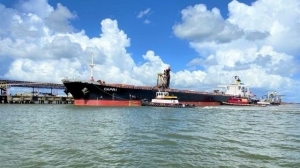 (Posted on 12/08/22)
T. Parker Host has announced the largest amount of cargo ever loaded on the Mississippi River on 6th August sailing from United Bulk Terminals and coordinated by Host Agency.
The M/V Capri loaded over 134,000 metric tons of coal from Javelin Global Commodities, making this vessel the first to sail with a draft of 50 feet on the river. HOST have served again as both the vessel agent and terminal operator for another historic voyage on the river.
In a statement, the company HOST said, "With a presence on the river for over a decade, HOST is proud to have participated in the phase of reaching 50 feet in 2022. We will continue to support the long-term efforts to reach a 55 feet draft. This announcement follows other draft milestones on the river, issued in December, 2021 and March, 2022.
This is a celebration for commerce on the river, and the culmination of many years of industry efforts and partnership between the River Pilots, U.S. Army Corps of Engineers, U.S. Coast Guard, port officials, elected representatives, six different governors and the entire maritime community to be able to accommodate vessels with larger drafts – bringing more commerce to the Mississippi River."
T. Parker Host is a total solutions provider for the maritime industry, specializing in agency services, terminal operations, stevedoring and marine assets. Founded in 1923 and guided by its Core Principles, the company has developed a strong reputation in the maritime community for its expertise, transparency and high standards of service.
Latest News
(Posted on 26/11/23)
A 194 million euro investment in North Sea Port will secure large-scale CO2 reduction by the largest... Read more
(Posted on 17/11/23)
The Central Association of German Seaport Operators (ZDS) has called for a decisive German port policy... Read more
(Posted on 13/11/23)
A groundbreaking feasibility study has highlighted the potential for using clean ammonia to refuel ships... Read more
(Posted on 05/11/23)
IAPH has announced the ratification by the IAPH Council of the new IAPH Board. The Board is formed by... Read more
(Posted on 05/11/23)
CN has announced that it acquired from Genesee & Wyoming Inc., a stake in the Cape Breton &... Read more
(Posted on 31/10/23)
Due to continued very high inflation, the Hamburg Port Authority (HPA) will raise port fees by an average... Read more
(Posted on 31/10/23)
The UK's leading ports group, Associated British Ports (ABP), has appointed Jeff Gibb as Lead... Read more
(Posted on 26/10/23)
In the first nine months of 2023, there was 6% less throughput in the port of Rotterdam: 329.9 million... Read more
(Posted on 26/10/23)
After nine months, the total throughput of Port of Antwerp-Bruges was 204.4 million tonnes, a drop of... Read more
(Posted on 19/10/23)
LOGISTEC Corporation have announced that it has entered into an arrangement agreement with 1443373... Read more