HES Gdynia grain terminal expansion underway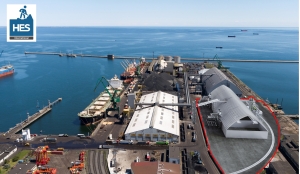 (Posted on 19/09/23)
HES Gdynia in Poland has started the construction works of a grain storage facility extension in port of Gdynia, in one of the most important and traffic-heavy hubs for wheat in the region.
The investment project already holds construction approval, therefore ground excavation work began on the site immediately. A new flat grain warehouse, equipped with a transfer conveyor system on supply and discharge routes, will be raised, aiming to improve the terminal's grain handling and storage capabilities, as grain shipment volumes continue to grow annually.
The new warehouse will be capable of storing ca. 64.000 tons which will also alleviate recent grain storage capacity shortages at Polish ports resulting from supply chain disruptions triggered by the war in Ukraine. In the scope of the project, there are two new loading and discharge points for trucks and railcars, including a bottom discharge technology with underway weighing. This is currently expected by customers and supports decarbonization, as it will reduce grains delivery on roads.
The expansion is expected to be completed in Q4 2024, thereafter allowing HES Gdynia to offer a higher level of efficiency by accelerating the logistics processes at HES terminal and throughout the port of Gdynia. The new investment will also enhance quality, safety and capabilities at the terminal, providing much-needed space for a supply constrained market, underpinning the terminal as a reliable logistic grain partner, strategically positioned for domestic and non-domestic supplies.
HES Gdynia Bulk Terminal is one of the largest bulk sea terminals in Poland, handling between 6-7 million tonnes of commodities per year. For decades, the terminal has developed advanced skills, experience and expertise in port operations, handling a wide range of dry and liquid bulk products operating on 4 water quays with max draft 13m (next year 15m). HES Gdynia is well positioned to support grain and animal feed trade, together with coal import and a diverse range of bulk commodities being a crucial gateway to both domestic and international markets.
In recent years, HES Gdynia Bulk Terminal has upgraded the facility, technology and operations, meeting logistic requirements changes and supporting its customers in building more sustainable supply chains. The company pursues sustainable growth through the acquisitions of new electric, hybrid or low emission technology equipment to run smoothly, efficiently, in a safe manner, whilst also mitigating against climate change.
Facts and figures
Location: Main entrance of the Port of Gdynia, Poland
Open storage capacity: 107,000 m2
Covered storage capacity: 226,000 m3 (311,000 m3 from IQ 2025)
Access by: Vessel, barge, rail and truck
Max. draft: 13 m (15m from IQ 2025)
Products: agricultural products | minerals | aggregates| cokes | coking & steam coal
Transloading of liquids: diesel oil | petrochemicals
Services: Handling | Storage | Weighing
Certifications: ISO 9001 | ISO 45001 | AEO | GMP+ | ISO 22000 | ISO 14001
Latest News
(Posted on 26/09/23)
The Port of Rotterdam Authority and Yokogawa Electric Corporation have initiated a feasibility study... Read more
(Posted on 12/09/23)
A joint Statement from the United States and the European Union has been released on support for Angola... Read more
(Posted on 08/09/23)
Associated British Ports has announced the successful renewal of a lease agreement with Breedon Group... Read more
(Posted on 04/09/23)
In North Sea Port, the transportation of goods to the hinterland by inland waterway continues to increase... Read more
(Posted on 28/08/23)
Both the tense economic situation in Europe, especially in Germany, and background geopolitical factors... Read more
(Posted on 21/08/23)
Abu Dhabi based AD Ports Group has announced its financial results for the second quarter of 2023, reporting... Read more
(Posted on 14/08/23)
SOHAR Port and Freezone in the Sultanate of Oman, has signed a land lease agreement with Sohar Noble... Read more
(Posted on 09/08/23)
CN has published its 2023-2024 Grain Plan, which builds on the operational improvements introduced this... Read more
(Posted on 02/08/23)
The Maritime Standard is delighted to announce the unveiling of the second session, titled 'Ports and... Read more
(Posted on 01/08/23)
Abu Dhabi based AD Ports Group, the leading global facilitator of trade, logistics, and industry, and... Read more