Henrik Pedersen appointed ABP Chief Executive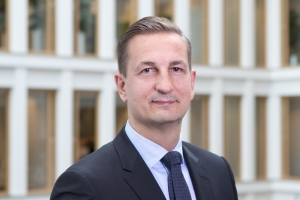 (Posted on 02/05/18)
ABP is pleased to announce the appointment of Henrik L. Pedersen as its new Chief Executive.
Pedersen joins ABP from APM Terminals, a key business within A.P. Moller-Maersk, where he has served as Chief Commercial Officer since January 2017. He has 20 years of experience in a wide range of senior leadership roles across A.P. Moller-Maersk businesses worldwide. He will take up his role as Chief Executive in August 2018.
Speaking about his appointment, Pedersen said, "With ABP handling around 25% of the UK's seaborne trade, making sure the business can continue to develop and grow is vitally important for our customers and the wider UK economy.
"It's an immensely exciting challenge and I look forward to working with everyone at ABP to achieve that goal."
ABP Chairman, Dr. Phil Nolan said, "We are all very much looking forward to welcoming Henrik on board.
"Henrik brings with him a wealth of experience and we are confident that under his leadership ABP will continue to go from strength to strength."
Paying tribute to departing Chief Executive James Cooper, Dr. Nolan said, "We are deeply grateful to James for his outstanding contribution to the business and wish him every success for the future."
ABP is the UK's leading port operator, with a unique network of 21 ports across England, Scotland and Wales. Ports include Immingham and Southampton.
Latest News
(Posted on 20/06/22)
The port of Rotterdam in the Netherlands and the Port of Baie Comeau in Canada have agreed to jointly... Read more
(Posted on 12/06/22)
The Port of Antwerp-Bruges is supporting the transition to a climate-neutral society with NextGen District... Read more
(Posted on 08/06/22)
At an event in partnership with the U.S. Army Corps of Engineers, Port Houston has officially kicked... Read more
(Posted on 03/06/22)
The European Sea Ports Organisation and its members met in Valencia for its General assembly on 1st... Read more
(Posted on 31/05/22)
The Trois-Rivières Port Authority (TRPA) has held its annual general assembly, which was an opportunity... Read more
(Posted on 25/05/22)
Three new berths will be added to the port of Rotterdam this summer. There will be a new set of dolphins... Read more
(Posted on 18/05/22)
Marcor Stevedoring B.V. intends to extend its floating terminal in Rotterdam with the development of... Read more
(Posted on 12/05/22)
The first spade has gone into the ground for the new 800-metre-long quay at Quarleshaven in East Vlissingen... Read more
(Posted on 05/05/22)
AD Ports Group and the Red Sea Ports Authority have signed a Term Sheet and a Head of Terms agreement... Read more
(Posted on 27/04/22)
In the first quarter of 2022, 1.5% less freight passed through the Port of Rotterdam than in the same... Read more