Hamburg Port info live on your smartphone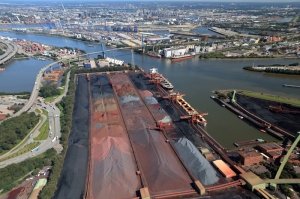 (Posted on 20/12/22)
Hafen Hamburg Marketing e.V. (HHM) has published a new Port of Hamburg app and added numerous functions to it. It now offers comprehensive information for everyone - whether transport and logistics experts or port and ship enthusiasts.
One highlight is the "Port live" function. It shows what the user is seeing in his or her port environment. If the smartphone is held in the direction of a ship, for example, it is identified and the app displays its name in a so-called augmented reality. With a click, users receive further information about the ship and photos of it. The terminals and the companies located in the port are also displayed via "Port live".
This function is just one of eight in the new Port of Hamburg app. From small barges to mega container carriers - over 20,000 ships are stored in the ship database with pictures and detailed information. They can be filtered by length, width or carrying capacity, among other things. The app also shows which ships are expected to arrive in the next 48 hours. The sailing list of the cruise ships even includes the calls for the entire current year. A virtual journey through the port is made possible by the "Port Map", here all terminals and ships currently in the port are displayed.
The new app also provides a comprehensive overview of the liner services by water and rail. The "Liner Services" database contains all shipping connections between Hamburg and around 1,000 ports worldwide that are regularly called at. The intermodal database in turn contains an overview of regular train connections between Hamburg and German, European and Chinese destinations. In addition, the regular inland waterway transports via Hamburg are listed here.
Anyone interested in the latest news about the Port of Hamburg and the maritime industry will also find what they are looking for in the new app. It also offers a comprehensive media library with many videos and information materials. So that port fans don't miss anything in future, push notifications can be set for various areas.
The Port of Hamburg app is now available for smartphones with Android or Apple iOS operating systems.
Latest News
(Posted on 26/11/23)
A 194 million euro investment in North Sea Port will secure large-scale CO2 reduction by the largest... Read more
(Posted on 17/11/23)
The Central Association of German Seaport Operators (ZDS) has called for a decisive German port policy... Read more
(Posted on 13/11/23)
A groundbreaking feasibility study has highlighted the potential for using clean ammonia to refuel ships... Read more
(Posted on 05/11/23)
IAPH has announced the ratification by the IAPH Council of the new IAPH Board. The Board is formed by... Read more
(Posted on 05/11/23)
CN has announced that it acquired from Genesee & Wyoming Inc., a stake in the Cape Breton &... Read more
(Posted on 31/10/23)
Due to continued very high inflation, the Hamburg Port Authority (HPA) will raise port fees by an average... Read more
(Posted on 31/10/23)
The UK's leading ports group, Associated British Ports (ABP), has appointed Jeff Gibb as Lead... Read more
(Posted on 26/10/23)
In the first nine months of 2023, there was 6% less throughput in the port of Rotterdam: 329.9 million... Read more
(Posted on 26/10/23)
After nine months, the total throughput of Port of Antwerp-Bruges was 204.4 million tonnes, a drop of... Read more
(Posted on 19/10/23)
LOGISTEC Corporation have announced that it has entered into an arrangement agreement with 1443373... Read more