Gladstone Port welcomes new Chair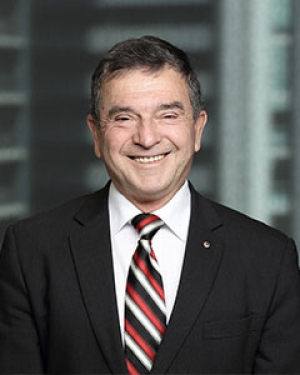 (Posted on 04/10/18)
Peter Corones has been appointed by the Queensland Government to lead Gladstone Ports Corporation (GPC). GPC is a Government Owned Corporation responsible for supporting and facilitating the trade of Central Queensland's major resource industries – including coal, liquefied natural gas and alumina - as well as agriculture and bulk product.
Corones stepped into the Chairman role on 1st October 2018, having been a Director of GPC for the past three years, in addition to appointments between 1994 and 2012.
With more than 41 years of commercial and community experience, as a business proprietor, company director, Mayor and Councillor, Corones has a strong project management background and extensive knowledge across sectors including ports, tourism, and promotion. Corones is also the Chairman of the Gladstone Area Group Apprentices Limited (GAGAL) and the Governor in Council appointee to the CQ University Council.
GPC CEO Peter O'Sullivan said Mr Corones' background will significantly add to the depth of experience already on the Board.
"Corones brings with him strong networks and a strategic approach, as well as a proven track record of delivering value for customers, employees and the community," Mr O'Sullivan said.
"We very much look forward to the Chair's contribution and working with him on creating a high performing and sustainable future for the Corporation.
"I'd also like to acknowledge the outstanding work of returning and outgoing members of the board."
Grant Cassidy and Peta Jamieson have both been reappointed as directors, with Gladstone business woman Adrienne Ward also joining the GPC Board.
The GPC Board comprises of seven independent directors, with a diverse range of skills and experience that will ensure the effective governance of the Corporation in achieving its strategic goals and direction.
Latest News
(Posted on 19/09/23)
HES Gdynia in Poland has started the construction works of a grain storage facility extension in port... Read more
(Posted on 12/09/23)
A joint Statement from the United States and the European Union has been released on support for Angola... Read more
(Posted on 08/09/23)
Associated British Ports has announced the successful renewal of a lease agreement with Breedon Group... Read more
(Posted on 04/09/23)
In North Sea Port, the transportation of goods to the hinterland by inland waterway continues to increase... Read more
(Posted on 28/08/23)
Both the tense economic situation in Europe, especially in Germany, and background geopolitical factors... Read more
(Posted on 21/08/23)
Abu Dhabi based AD Ports Group has announced its financial results for the second quarter of 2023, reporting... Read more
(Posted on 14/08/23)
SOHAR Port and Freezone in the Sultanate of Oman, has signed a land lease agreement with Sohar Noble... Read more
(Posted on 09/08/23)
CN has published its 2023-2024 Grain Plan, which builds on the operational improvements introduced this... Read more
(Posted on 02/08/23)
The Maritime Standard is delighted to announce the unveiling of the second session, titled 'Ports and... Read more
(Posted on 01/08/23)
Abu Dhabi based AD Ports Group, the leading global facilitator of trade, logistics, and industry, and... Read more