Gladstone East Shores project progresses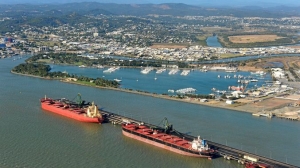 (Posted on 08/04/19)
Gladstone Ports Corporation (GPC) Australia is progressing with its vision to extend the community's foreshore access through the construction of East Shores Stage 1B.
The Port of Gladstone is one of Australia's finest natural deep-water harbours. The Port is Queensland's largest multi-commodity port, handling over 30 different products. Major cargoes include coal, bauxite, alumina, aluminium, cement and Liquefied Natural Gas (LNG). The port has a total throughput of more than 100 million tonnes per annum.​
GPC Acting Chief Executive Officer, Craig Walker said he was excited to announce the East Shores Stage 1B Project was off and running and the community can now see progress, with upgraded access via Flinders parade and new carparks already well underway.
"The East Shores Stage 1B project included a number of components, including the marine facilities, parklands and cruise terminal, all of which went out to tender earlier this year," Mr Walker said.
"We are currently working with a preferred contractor to finalise details for the new parklands and cruise terminal and anticipate eleven (11) local sub-contracting companies to be involved with the project.
"A priority within GPC's Procurement Plan is to support local business where possible and I'm pleased to say that we expect a majority of sub-contractors to be local.
"The marine works is currently being reconsidered as it would not be prudent to commit to the extra-ordinary cost, safety concerns and impact on competing facilities within the region."
GPC Chairman Peter Corones AM, said "As a gateway to our region, the precinct will offer world class facilities not only for visitors, but our whole community."
Road closures along Flinders Parade commenced earlier this year, signalling the start of preparatory works for the project.
The new East Shores stage 1B parklands construction is expected to start in May 2019 and is planned to be opened to the public prior to Easter 2020.
Tenders for the café at East Shores 1B will open in the coming months via the QTenders website.
Latest News
(Posted on 24/03/23)
LOGISTEC Corporation, a leading marine and environmental services provider, has announced its financial... Read more
(Posted on 24/03/23)
Terence Bowles, President and CEO of the St. Lawrence Seaway Management Corporation (SLSMC), and Adam... Read more
(Posted on 20/03/23)
Abu Dhabi based AD Ports Group, the leading facilitator of global trade, logistics, and industry, has... Read more
(Posted on 20/03/23)
Grain handling at the Port of Immingham is increasing thanks to the new opportunities presented by investment... Read more
(Posted on 07/03/23)
Marcor Stevedoring has signed a contract adding Liebherr's largest and most powerful mobile harbour... Read more
(Posted on 07/03/23)
AD Ports Group, an Abu Dhabi based leading facilitator of global trade, logistics, and industry, and... Read more
(Posted on 02/03/23)
LOGISTEC Stevedoring Inc., a subsidiary of LOGISTEC Corporation, a leading North American marine and... Read more
(Posted on 28/02/23)
End-of-year figures for total traffic in the Spanish Port of Bilbao stand at 32.7 million tonnes, up... Read more
(Posted on 24/02/23)
The Port of Sept-Îles and LOGISTEC Arrimage Inc. have announced that they have reached the impressive... Read more
(Posted on 24/02/23)
The war in Ukraine led to unprecedented changes in goods flows last year. At 467.4 million tonnes, total... Read more