Georgetown's growth supported by Guyana's first MHC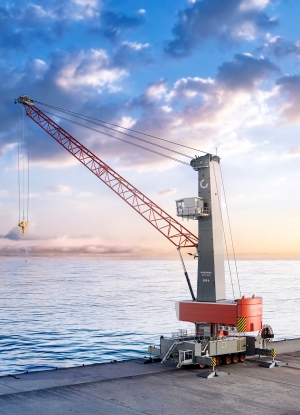 (Posted on 24/02/23)
In Q3 2022, two port operating companies in Guyana – Muneshwers Ltd. and John Fernandes Ltd. – made a joint order for two Generation 6 Konecranes Gottwald Mobile Harbour Cranes to build up cargo handling terminals in the capital Georgetown. When the cranes arrive in Q2 2023 they will be the very first mobile harbour cranes in Guyana, and Konecranes Gottwald Mobile Harbour Cranes will be present in all the coastal states of South America.
The family-owned John Fernandes Ltd. and Muneshwers Ltd. are working together to build a regional cargo hub for the common good of Guyana. They have purchased two Generation 6 Konecranes Gottwald Mobile Harbour Cranes that will be able to handle "gearless" ships, that is, ships that do not have their own onboard loading/unloading equipment. This will be a first for Guyana, making the Port of Georgetown able to receive a much wider variety of cargo ships that can also be much larger. Their new cranes will have the latest technology to maximize productivity, with the flexibility to handle both general cargo and containers on the quay while minimizing fuel consumption and carbon emissions.
"As we planned our hub, it soon became clear that the right equipment for us was mobile harbour cranes, and we made site visits to Jamaica and Florida where we could see cranes of different brands in action at customer sites," says Robin Muneshwer, CEO of Muneshwers Ltd.
"Konecranes Gottwald Mobile Harbour Cranes impressed us with their performance, reliability, and robustness as well as their outstanding ecoefficiency.
Their special hybrid drive offers us both performance peaks in fast and heavy cargo handling and fuel saving options," says Philip Fernandes, CEO of John Fernandes Ltd.
"We're proud that John Fernandes Ltd and Muneshwers Ltd have chosen Konecranes to provide the first mobile harbour cranes in Guyana. It's a true milestone in the development of professional cargo handling for both Guyana and Konecranes," says Andreas Moeller, Senior Sales Manager, Americas, Port Solutions, Konecranes.
This order is a prime example of Ecolifting, Konecranes' continuous work to decrease the carbon footprints of our customers. From eco-optimizing diesel drives, to hybridization and fully-electrified fleets, we will continue to do more with less.
A strong focus on customers and commitment to business growth and continuous improvement make Konecranes a lifting industry leader. This is underpinned by investments in digitalization and technology, plus our work to make material flows more efficient with solutions that decarbonize the economy and advance circularity and safety.
Latest News
(Posted on 03/12/23)
In the presence of Kassym-Jomart Tokayev, President of the Republic of Kazakhstan, AD Ports Group, a... Read more
(Posted on 03/12/23)
Lhyfe, a global pioneer in the production of renewable green hydrogen for transportation and industrial... Read more
(Posted on 26/11/23)
A 194 million euro investment in North Sea Port will secure large-scale CO2 reduction by the largest... Read more
(Posted on 17/11/23)
The Central Association of German Seaport Operators (ZDS) has called for a decisive German port policy... Read more
(Posted on 13/11/23)
A groundbreaking feasibility study has highlighted the potential for using clean ammonia to refuel ships... Read more
(Posted on 05/11/23)
IAPH has announced the ratification by the IAPH Council of the new IAPH Board. The Board is formed by... Read more
(Posted on 05/11/23)
CN has announced that it acquired from Genesee & Wyoming Inc., a stake in the Cape Breton &... Read more
(Posted on 31/10/23)
Due to continued very high inflation, the Hamburg Port Authority (HPA) will raise port fees by an average... Read more
(Posted on 31/10/23)
The UK's leading ports group, Associated British Ports (ABP), has appointed Jeff Gibb as Lead... Read more
(Posted on 26/10/23)
In the first nine months of 2023, there was 6% less throughput in the port of Rotterdam: 329.9 million... Read more