Galena fund: first for commodities industry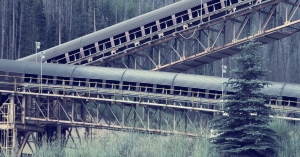 (Posted on 01/07/21)
Galena Asset Management, a wholly-owned investment subsidiary of Trafigura, one of the world's leading independent commodity trading companies, has successfully completed the first funding within a USD155 million, closed-ended three-year Committed Prepayment Portfolio Fund. The Galena Commodity Credit Fund, a first of its kind in the commodities industry, was raised with private equity and senior debt provided by a syndicate of core banks for the Group - Lloyds Bank, Sumitomo Mitsui Banking Corporation ("SMBC") and SuMi TRUST Bank.
Prepayments are used to organise up-front loans for commodity producing counterparties and are repaid over time in commodity shipments. Trafigura has become one of the leading companies engaged in structured trade finance, with total prepayments for commodities including oil, metals and minerals now exceeding USD5 billion per annum.
The Galena Fund is managed independently from Trafigura and has been established to purchase insured prepayments from Trafigura, thus increasing Trafigura's ability to agree further prepayments with producing counterparties.
"Our Singapore-based team has structured an innovative finance vehicle that introduces commodity linked prepayments as a new asset class for investors," said Maximilian Tomei, Chief Executive Officer for Galena Asset Management. "Our intention is to create a series of similar funds at a time when the business environment is rapidly evolving for the commodity trading industry."
"Product innovation is key for Singapore as a financial hub and we are proud to have supported the first structure of its kind in the fund management and commodities industries," said Chin Hwee Tan, CEO Asia Pacific for Trafigura and Monetary Authority of Singapore Financial Centre Advisory Panel Committee Member.
Trafigura has set out to explain how resource-backed loans work, for example, through the publication of "Prepayments Demystified" in 2020. In accordance with its commitment to the Extractive Industries Transparency Initiative (EITI), Trafigura discloses prepayments made by its majority-owned companies, including funds managed by Galena Asset Management, to state-owned entities through its annual Payments to Governments report here.
In addition to being Lenders, Lloyds Bank, SMBC and SuMi TRUST Bank acted as Mandated Lead Arrangers and SMBC also acted as Agent, Security Agent and Account Bank.
Latest News
(Posted on 26/09/23)
Vale has announced that it signed a MOU with the Port of Açu to study the development of a Mega... Read more
(Posted on 26/09/23)
The European Soy Monitor 2021 has been published, containing an overview of estimations on the use of... Read more
(Posted on 19/09/23)
BHP contributed $60 billion (AUD) in economic value to the Australian economy in the 2023 financial... Read more
(Posted on 19/09/23)
BHP contributed $60 billion (AUD) in economic value to the Australian economy in the 2023 financial... Read more
(Posted on 19/09/23)
Trafigura Group Pte Ltd. has announced an evolution of its executive team to further strengthen leadership... Read more
(Posted on 12/09/23)
The Food and Agricultural Organisation of the United Nations (FAO) forecast for global cereal production... Read more
(Posted on 08/09/23)
Rio Tinto has appointed Jérôme Pécresse to lead its Aluminium business, succeeding... Read more
(Posted on 04/09/23)
The Environmental Protection Agency (EPA) and the Army Corps in the USA have announced the final definition... Read more
(Posted on 28/08/23)
Despite the many and varied categories of cargo damage faced by shipowners transporting grain cargoes... Read more
(Posted on 28/08/23)
Rio Tinto and First Quantum Minerals have completed a transaction to form a joint venture that will... Read more