FMT increases Southern USA presence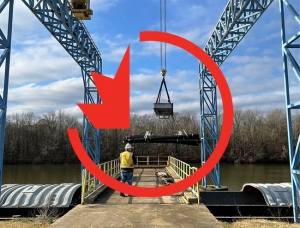 (Posted on 31/03/21)
Federal Marine Terminals, Inc. (FMT) has signed an operating agreement with Port Itawamba, increasing its presence in the Southern region of the USA within this vital inland waterway system.
The facility, located in Northern Mississippi on the Tennessee-Tombigbee Waterway, covers an impressive reach, including destinations along the US Gulf Coast and into the US Midwest. FMT will be handling a variety of commodities including steel, bulk, forest products, and project cargoes, while exploring additional opportunities.
With this multi-year lease, the Port demonstrates its confidence in FMT, positioning the terminal operator as its exclusive stevedoring and logistics service provider. "We are excited to expand our current footprint by partnering with the Itawamba County Port to help drive new revenue streams for the Port and its community. Our strong expertise in logistics services will be an asset." – Louis Saint-Cyr, President of Federal Marine Terminals.
Federal Marine Terminals, Inc. was established in 1965 to complement the freight operations of Montreal-based Fednav Limited. Today, FMT is recognized as a growing player in the North American terminal industry, handling breakbulk, bulk, specialized, and general cargo in 13 terminals located in the US East Coast, in the Gulf of Mexico, on the Great Lakes, and in the Arctic. Working alongside FMT, Fednav Direct offers logistics services including inventory management and inland transportation throughout the US and Canada.
Latest News
(Posted on 24/03/23)
LOGISTEC Corporation, a leading marine and environmental services provider, has announced its financial... Read more
(Posted on 24/03/23)
Terence Bowles, President and CEO of the St. Lawrence Seaway Management Corporation (SLSMC), and Adam... Read more
(Posted on 20/03/23)
Abu Dhabi based AD Ports Group, the leading facilitator of global trade, logistics, and industry, has... Read more
(Posted on 20/03/23)
Grain handling at the Port of Immingham is increasing thanks to the new opportunities presented by investment... Read more
(Posted on 07/03/23)
Marcor Stevedoring has signed a contract adding Liebherr's largest and most powerful mobile harbour... Read more
(Posted on 07/03/23)
AD Ports Group, an Abu Dhabi based leading facilitator of global trade, logistics, and industry, and... Read more
(Posted on 02/03/23)
LOGISTEC Stevedoring Inc., a subsidiary of LOGISTEC Corporation, a leading North American marine and... Read more
(Posted on 28/02/23)
End-of-year figures for total traffic in the Spanish Port of Bilbao stand at 32.7 million tonnes, up... Read more
(Posted on 24/02/23)
The Port of Sept-Îles and LOGISTEC Arrimage Inc. have announced that they have reached the impressive... Read more
(Posted on 24/02/23)
The war in Ukraine led to unprecedented changes in goods flows last year. At 467.4 million tonnes, total... Read more