Experienced operators to steer Tees shipping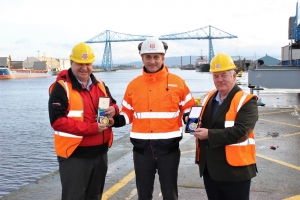 (Posted on 21/01/20)
Teesside's shipping community has appointed senior business leaders from two of the region's most successful port facilities to represent the industry.
Gary Dawson, AV Dawson managing director and Garry O'Malley, Redcar Bulk Terminal (RBT) man-aging director take on the chair and vice chair roles for the industry body, the Tees and Hartlepool Port Users Association (THPUA).
Dawson takes over the reins from former chair, Stuart Brookes, ConocoPhillips, whom he has sup-ported as vice chair for the last two years.
Dawson and O'Malley bring a wealth of experience to their new roles; both from the perspective of their roles as senior business leaders but also the businesses they represent. AV Dawson and RBT are both successful port facilities on the Tees that have been going from strength to strength; each has recently made announcements of major investments and new contract wins. Both busi-ness leaders also bring expertise and contacts through their involvement in supporting interna-tional businesses import and export a wide range of cargoes through the Tees.
Garry O'Malley, THPUA vice chair said: "The THPUA is a long established organisation with a huge heritage and a strong membership today that includes the entire shipping industry supply chain from port operators to agents and pilots, through to Teesside's industry heavyweights that use the river including British Steel, ConocoPhillips, Huntsman Polyurethanes, ICL Boulby, Stobart Energy and SABIC.
"I'm really proud to be at the helm of such an established, well regarded membership group. I'm looking forward to working with Gary Dawson and continuing in the good work that he and Stuart Brookes have started over the last two years to reinvigorate this group and work with all our members, the Statutory Harbour Authority, government and international contacts to promote trade on the Tees."
Gary Dawson, THPUA chair said: "The Tees Valley Mayor, Ben Houchen has been very open in his views about the River Tees, the importance of industry on the river and how critical it is to the fu-ture success of the region. He is keen to work together with the THPUA to increase river trade and thereby improve the region's economy. This is therefore a fantastic opportunity for us to work more collaboratively with the Mayor and the Statutory Harbour Authority PD Teesport for the greater good of the river and the region."
Latest News
(Posted on 26/11/23)
A 194 million euro investment in North Sea Port will secure large-scale CO2 reduction by the largest... Read more
(Posted on 17/11/23)
The Central Association of German Seaport Operators (ZDS) has called for a decisive German port policy... Read more
(Posted on 13/11/23)
A groundbreaking feasibility study has highlighted the potential for using clean ammonia to refuel ships... Read more
(Posted on 05/11/23)
IAPH has announced the ratification by the IAPH Council of the new IAPH Board. The Board is formed by... Read more
(Posted on 05/11/23)
CN has announced that it acquired from Genesee & Wyoming Inc., a stake in the Cape Breton &... Read more
(Posted on 31/10/23)
Due to continued very high inflation, the Hamburg Port Authority (HPA) will raise port fees by an average... Read more
(Posted on 31/10/23)
The UK's leading ports group, Associated British Ports (ABP), has appointed Jeff Gibb as Lead... Read more
(Posted on 26/10/23)
In the first nine months of 2023, there was 6% less throughput in the port of Rotterdam: 329.9 million... Read more
(Posted on 26/10/23)
After nine months, the total throughput of Port of Antwerp-Bruges was 204.4 million tonnes, a drop of... Read more
(Posted on 19/10/23)
LOGISTEC Corporation have announced that it has entered into an arrangement agreement with 1443373... Read more