EuroDry look to "sizable returns"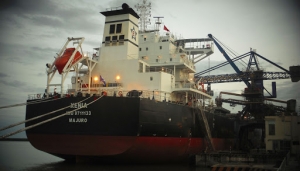 (Posted on 14/02/20)
EuroDry Ltd, an owner and operator of dry bulk vessels and provider of seaborne transportation for drybulk cargoes, has announced its results for the three- and twelvemonth periods ended December 31, 2019.
Full Year 2019 Highlights include Total net revenues of $27.2 million.
An average of 7.0 vessels were owned and operated during the twelve months of 2019 earning an average time charter equivalent rate of $11,190 per day. The Spin-off Euroseas Ltd. ("Euroseas") contributed to the Company seven subsidiaries comprising its drybulk fleet of six vessels, one Ultramax and two Kamsarmax vessels built between 2016 and 2018, and three Japanese-built Panamax vessels built between 2000 and 2004. The Company was spun-off from Euroseas Ltd. on May 30, 2018. Comparative period results for the full year 2018 reflect the results of the carve-out operations of the seven subsidiaries that were contributed to the Company from Euroseas.
Aristides Pittas, Chairman and CEO of EuroDry commented: "During the fourth quarter of 2019, the drybulk market experienced a decline in rates which in some cases exceeded a 20% drop compared to third quarter's rates. This decline in rates was not fully reflected in the net revenues and time charter equivalent rate of the fourth quarter of 2019, due to the fact that certain vessels were employed under long-term time charters fixed in prior periods and certain vessels were fixed at favourable rates during the third quarter of 2019 running through the fourth quarter of 2019. However, the market continued declining during January and February of 2020 as, on the top of trade uncertainties which by December 2019 seemed to be subsiding, new concerns were added regarding the effects of the coronavirus epidemic on the world growth and trade. The positive by-product of the uncertainties in the marketplace is the limited numbers of new orders placed and the declining orderbook as a percentage of the fleet. Thus, we continue to believe that drybulk markets could offer significant opportunities for sizable returns in the medium term." "In the capital markets, we continue to pursue opportunities to merge with other fleets to grow the company providing a platform for consolidation. At the same time, we are pursuing initiatives to increase EuroDry's visibility amongst investors. We believe that such increased visibility with investors will help reduce the significant discount to the NAV our stock trades at, thus, offering additional upside to our shareholders and new investors alike."
Tasos Aslidis, Chief Financial Officer of EuroDry commented: "The operating results of the fourth quarter of 2019 reflect the average level of charter rates our vessels enjoyed during the quarter which was similar to the average time charter equivalent rate our vessels earned in the fourth quarter of 2018.
Latest News
(Posted on 07/12/23)
ClassNK has issued Approvals in Principle (AiPs) for four cutting-edge ship designs developed by Marine... Read more
(Posted on 07/12/23)
A smartship partnership bringing together ship management company Laskaridis Shipping, digital technology... Read more
(Posted on 07/12/23)
ABB has launched a new digital tool allowing shipowners, operators and designers to estimate the emission... Read more
(Posted on 03/12/23)
The Dry Bulk and LNG segments have borne the brunt of restricted transits, particularly due to their... Read more
(Posted on 03/12/23)
Columbia Shipmanagement (CSM) is set to further boost operational efficiency on its vessels, as crew... Read more
(Posted on 26/11/23)
Shi.E.L.D. Services has selected Spinergie as its preferred digitized solution provider to monitor and... Read more
(Posted on 26/11/23)
Thousands of cadets and trainees in India will benefit from in-depth wellness training and support thanks... Read more
(Posted on 17/11/23)
As shipping continues its journey to decarbonisation, INTERCARGO will host a special forum in Athens... Read more
(Posted on 13/11/23)
INTERCARGO was deeply saddened and concerned to hear of the reported appalling missile attack on the... Read more
(Posted on 13/11/23)
A new-look Wellness at Sea Awareness Campaign for seafarers, their families and shore staff that &ldquo... Read more