Essar Ports posts record growth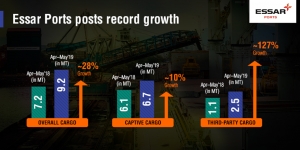 (Posted on 21/06/19)
Essar's Ports business, which operates four terminals on the east and west coasts of India, has registered a 28 percent growth in cargo volumes in the first two months of the current financial year (April-May 2019), with a throughput of 9.2 MT (million tonnes).
The growth has been driven by a 127 percent increase in third-party cargo when compared to the same period in the previous financial year. Cargo volumes from captive customers also grew by 11 percent.
In the month of May 2019 alone, the four terminals cumulatively handled about 4.8 MT of cargo, which is a growth of ~34% when compared to ~3.6 MT of cargo handled in May 2018.
Essar Ports is one of India's largest private sector port operators in terms of capacity and throughput. It has four operational terminals in India—Hazira and Salaya (both in Gujarat) on the west coast, and in Visakhapatnam and Paradip on the east coast. The current operational capacity of the port terminals in India is 110 MTPA.
Essar Ports specializes in development and operations of Ports and Terminals for handling liquid, dry bulk, break bulk and general cargo. It is one of the largest private sector port operators in India by capacity and throughput.
Latest News
(Posted on 05/06/23)
Peel Ports Group is investing £28 million on a new facility at the Port of Liverpool in its biggest... Read more
(Posted on 02/06/23)
Vancouver Fraser Port Authority CEO Robin Silvester has announced that he will be leaving the port authority... Read more
(Posted on 31/05/23)
AD Ports Group , the Abu Dhabi based leading facilitator of global trade, logistics and industry, has... Read more
(Posted on 31/05/23)
The World Port Climate Action Program (WPCAP) will be extended with a new focus on shore power, new... Read more
(Posted on 30/05/23)
Ships sailing from the North Sea via the Westerschelde to unload dry bulk goods at OVET's quay in Vlissingen... Read more
(Posted on 23/05/23)
The problematic trend in the world economy is affecting Port of Hamburg throughput figures. As in other... Read more
(Posted on 23/05/23)
A senior delegation from United Arab Emirates (UAE) visited Karachi and met with H.E. Faisal Sabzwari... Read more
(Posted on 16/05/23)
Two new electric harbour cranes, representing an £8.6 million investment, are the latest arrivals... Read more
(Posted on 14/05/23)
At a ceremony held during the transport logistic trade fair in Munich, Algis Latakas, General Director... Read more
(Posted on 08/05/23)
Associated British Ports (ABP's) Port of Ipswich, the UK's leading grain export port, has... Read more