Eagle Bulk into the red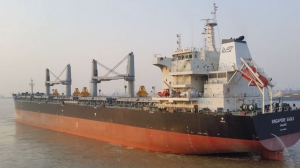 (Posted on 31/07/19)
Eagle Bulk Shipping Inc., one of the world's largest owner-operators within the Supramax / Ultramax segment, has reported financial results for the three and six months ended June 30, 2019.
Gary Vogel, Eagle Bulk's CEO, commented, "Our results for the second quarter are reflective of the challenging freight environment in the first half of the year. Despite the headwinds, we continued to deliver strong TCE outperformance (relative to the adjusted benchmark Baltic Supramax Index) of nearly $2,000 in the second quarter, marking our tenth consecutive quarter of outperformance.
"Our recently announced bond issuance and pending acquisition of six modern Ultramax vessels, four of which will be delivered to us with scrubbers, is an important step for Eagle, as we continue to renew and grow our fleet with larger, more efficient vessels. Coupled with our existing scrubber initiative, we believe these acquisitions increase our leverage to the opportunities IMO 2020 will present."
Highlights for the Quarter:
Generated net revenues of $69.4 million, representing a decrease of $5.5 million or 7% compared to the same period in 2018.
- TCE Revenue (1) for the quarter equated to $38.9 million, a decrease of 18% year-on-year.
- Achieved a TCE (2) of $9,731 for the quarter, a decrease of 15% year-on-year.
Realized a net loss of $6.0 million or $0.08 per basic and diluted share, compared to a net income of $3.5 million or $0.05 per basic and diluted share in the second quarter 2018.
Adjusted EBITDA(3) of $10.4 million, representing a decrease of $10.8 million or 51% compared to the same period in 2018.
Looking ahead into the third quarter of 2019, the Company has attained a TCE of $10,285 with approximately 57% of the available days fixed for the period thus far.
Subsequent Events
Issued 5-year Senior Unsecured Convertible Bonds totaling $114.1 million in gross proceeds, including the greenshoe of $14.1 million
- Coupon of 5% and conversion premium of +25% to July 24th 2019 closing price or $5.61 per share
Entered into two agreements to acquire a total of six high-specification SDARI-64 Ultramax vessels (the "Acquisition Vessels") for an aggregate purchase price of approximately $122.0 million, subject to final documentation and customary closing conditions
- Average age of approximately 3.3 years
- Four vessels are fitted with Exhaust Gas Cleaning Systems ("scrubbers")
Reached an agreement to sell the Kestrel, a 15-year old Supramax, ahead of her statutory drydock for a gross price of $7.3 million
Latest News
(Posted on 05/06/23)
DNV's latest white paper "Biofuels in shipping" finds that the flexibility of biofuels can... Read more
(Posted on 05/06/23)
Shipping is so global, that only a truly global regulator such as the International Maritime Organization... Read more
(Posted on 02/06/23)
Technology group Wärtsilä will partner with Transworld Group to apply the most advanced decarbonisation... Read more
(Posted on 02/06/23)
Global healthcare specialist VIKAND has appointed Ronald Spithout as its Managing Director for VIKAND... Read more
(Posted on 31/05/23)
The Columbia Group has underlined its commitment to the burgeoning Turkish maritime cluster by opening... Read more
(Posted on 31/05/23)
ClassNK has granted its Innovation Endorsement for Products and Solutions to Inmarsat's Fleet... Read more
(Posted on 23/05/23)
The International Association of Dry Cargo Shipowners (INTERCARGO) has reached an historic membership... Read more
(Posted on 23/05/23)
Competition authorities have now approved the merger of OSM Maritime Group and Thome Group. The merged... Read more
(Posted on 17/05/23)
A new report from DNV and Lloyd's List Intelligence, "Maritime safety trends 2012-2022:... Read more
(Posted on 17/05/23)
Damen Services has opened its twelfth service hub, located in South-East Asia at Damen Song Cam shipyard... Read more