Dry bulk up 38% as Sohar registers strong results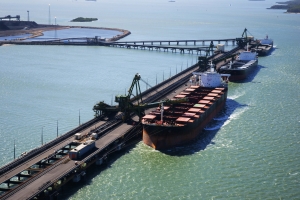 (Posted on 05/12/22)
SOHAR Port and Freezone has announced Strong results for the third quarter of 2022 as the Port throughput reported an increase by 32% over the same period last year.
As the rapidly growing complex continues to transform the Sultanate's burgeoning maritime and logistics industries, dry bulk volume grew by 38% to almost 11.8 million tons, liquid bulk increased by 28% to just over 5 million tons. The number of handled containers increased by 4% to 188,604 TEU. In addition, the Port also recorded robust growth of 60% increase in Ship-to-Ship (STS) cargo given its strategic location and its reputation for delivering unmatched quality of service with quick turnaround times with our ever-growing STS Customer base.
Emile Hoogsteden, Chief Executive Officer of SOHAR Port said, "The year 2022 has been tumultuous when it comes to higher energy costs and soaring consumer food prices globally, which have led to higher marine bunker prices and an increase in shipping costs for all sectors. With that said, we have been pleased with our performance, as well as seeing throughput grow quarter on quarter, year versus year." He added, "As we embark on 2023, we are optimistic about what the year holds for us. With the continuous support of our shareholders at Asyad Group and Port of Rotterdam, we are confident that SOHAR Port and Freezone will continue to grow and place Oman on the global trade and logistics map. We are also excited about the prospects of investments in the realm of green hydrogen, supported by the recently signed agreement between Oman and the Netherlands at COP 27, which will contribute to building the global green hydrogen value chain, as well as boost port development opportunities."
Meanwhile, the SOHAR Freezone's performance has been unrelenting in Q3 2022 with 11.2% increase in exports, and 4.2% increase in land occupancy compared with the same period last year. With a bespoke regulatory and incentive scheme program to attract Foreign Direct Investment, phase one of the Freezone is now occupied at over 75% capacity.
Omar Al Mahrizi, Chief Executive Officer of SOHAR Freezone and Deputy Chief Executive Officer of SOHAR Port said, added, "The growth we have achieved in 2022 to date provides a solid platform for even better results during 2023. Further expansion is planned as we continue to reach out to overseas investors about the potential of SOHAR Port and Freezone to meet their logistical needs in the region." He added, "In line with the aims of Oman Vision 2040 and considering the financial and economic measures the government is taking, the national economy is expected to grow by 5.7 percent next year. As a key enabler of growth, we look forward to more successes and achievements as SOHAR Freezone continue to attract Foreign Direct Investments and be the home of mega-projects in the fields of manufacturing consumer goods, food and industrial supplies, while offering competitive incentives and benefits." "In addition, and in line with its in-country-value strategy, SOHAR Port and Freezone local awarded outsourcing contracts increased by 114%.," Omar concluded.
SOHAR Port and Freezone has attracted USD 27 billion in total investment as part of a long-term commitment to developing Oman's economy in line with the objectives of Vision 2040. Open 24 hours a day, seven days a week, SOHAR is one of the world's fastest-growing complexes of its kind and significant developments within its industrial and food clusters are currently underway. The company is also exploring investment in green and renewable energy to make the Port and Freezone more efficient and environmentally conscious for the benefit of tenants, clients, the community, and the environment.
Latest News
(Posted on 26/11/23)
A 194 million euro investment in North Sea Port will secure large-scale CO2 reduction by the largest... Read more
(Posted on 17/11/23)
The Central Association of German Seaport Operators (ZDS) has called for a decisive German port policy... Read more
(Posted on 13/11/23)
A groundbreaking feasibility study has highlighted the potential for using clean ammonia to refuel ships... Read more
(Posted on 05/11/23)
IAPH has announced the ratification by the IAPH Council of the new IAPH Board. The Board is formed by... Read more
(Posted on 05/11/23)
CN has announced that it acquired from Genesee & Wyoming Inc., a stake in the Cape Breton &... Read more
(Posted on 31/10/23)
Due to continued very high inflation, the Hamburg Port Authority (HPA) will raise port fees by an average... Read more
(Posted on 31/10/23)
The UK's leading ports group, Associated British Ports (ABP), has appointed Jeff Gibb as Lead... Read more
(Posted on 26/10/23)
In the first nine months of 2023, there was 6% less throughput in the port of Rotterdam: 329.9 million... Read more
(Posted on 26/10/23)
After nine months, the total throughput of Port of Antwerp-Bruges was 204.4 million tonnes, a drop of... Read more
(Posted on 19/10/23)
LOGISTEC Corporation have announced that it has entered into an arrangement agreement with 1443373... Read more