Deepening of Rotterdam waterway complete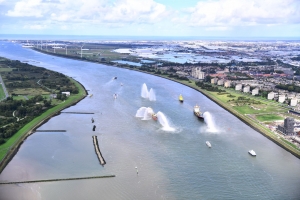 (Posted on 09/10/19)
The Directorate-General for Public Works and Water Management (Rijkswaterstaat) and the Port of Rotterdam Authority have celebrated the completion of the deepening of the Nieuwe Waterweg and Botlek. One of the busiest waterways in the Netherlands has been deepened by a metre and a half across a distance of 25 kilometres.
The ceremonial opening of the deepened Nieuwe Waterweg and Botlek was performed by Minister Cora van Nieuwenhuizen (Infrastructure & Water Management) and Ronald Paul, the Port of Rotterdam Authority's Chief Operating Officer. The opening included a spectacular nautical salute together with vessels from contractors Van der Kamp and Boskalis, a Port of Rotterdam Authority patrol vessel and a Rijkswaterstaat vessel.
The Minister and Ronald Paul are proud of the excellent partnership and the speed with which this challenging contract was completed. The largest sea-going vessels with a depth of 15 metres can now also easily access Rotterdam port's Botlek area. Minister Van Nieuwenhuizen: 'Big, bigger, biggest. We're talking here about the Aframax, Suezmax and Panamax, mammoth vessels that sail cheaper, more sustainably and safer. In the port sector, big is not only a matter of honour, but it's also a condition for survival in today's cut-throat competitive world. That is certainly true for the port of Rotterdam.'
Ronald Paul: 'That the biggest sea-going vessels can now access the Port of Rotterdam easily is vital to the competitive position of businesses in this area. Port Authority investments are eliciting a wide range of port business sector investments. This confirms our aim to continue to strengthen existing port industry, while also working hard to develop entirely new activities, for instance by investing in the energy transition and digitisation.'
The total joint investment amounted to around €70 million. The dredging activities were carried out while Europe's busiest port remained open for business. Over 15,000 sea-going vessels navigate the Nieuwe Waterweg every year.
Latest News
(Posted on 07/12/23)
US Port owners should start immediate planning to take advantage of the $3bn available in grants as... Read more
(Posted on 07/12/23)
The Vancouver Fraser Port Authority's board of directors has announced that it has appointed Peter... Read more
(Posted on 03/12/23)
In the presence of Kassym-Jomart Tokayev, President of the Republic of Kazakhstan, AD Ports Group, a... Read more
(Posted on 03/12/23)
Lhyfe, a global pioneer in the production of renewable green hydrogen for transportation and industrial... Read more
(Posted on 26/11/23)
A 194 million euro investment in North Sea Port will secure large-scale CO2 reduction by the largest... Read more
(Posted on 17/11/23)
The Central Association of German Seaport Operators (ZDS) has called for a decisive German port policy... Read more
(Posted on 13/11/23)
A groundbreaking feasibility study has highlighted the potential for using clean ammonia to refuel ships... Read more
(Posted on 05/11/23)
IAPH has announced the ratification by the IAPH Council of the new IAPH Board. The Board is formed by... Read more
(Posted on 05/11/23)
CN has announced that it acquired from Genesee & Wyoming Inc., a stake in the Cape Breton &... Read more
(Posted on 31/10/23)
Due to continued very high inflation, the Hamburg Port Authority (HPA) will raise port fees by an average... Read more