CP and KCS merger proposal receives US clearance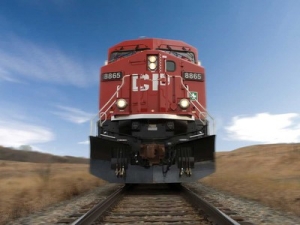 (Posted on 03/09/22)
Canadian Pacific Railway Limited has announced that it has received the required regulatory clearance from the Committee on Foreign Investment in the United States ("CFIUS") for the proposed combination of CP and Kansas City Southern ("KCS").
CP is a transcontinental railway in Canada and the United States with direct links to major ports on the west and east coasts. KCS is just one interchange away from every major market in North America.
CP completed its acquisition of KCS on 14 December, 2021. Immediately upon the closing of the acquisition, the shares of KCS were placed into a voting trust which ensures KCS will operate independently of CP while the U.S. Surface Transportation Board ("STB") completes its regulatory review of the companies' joint railroad control application to create Canadian Pacific Kansas City ("CPKC"), the only single-line railroad linking the United States, Mexico and Canada.
The STB review of CP's proposed control of KCS is expected to be completed in early 2023.
CP provides North American customers a competitive rail service with access to key markets in every corner of the globe. CP is growing with its customers, offering a suite of freight transportation services, logistics solutions and supply chain expertise.
Latest News
(Posted on 26/11/23)
A 194 million euro investment in North Sea Port will secure large-scale CO2 reduction by the largest... Read more
(Posted on 17/11/23)
The Central Association of German Seaport Operators (ZDS) has called for a decisive German port policy... Read more
(Posted on 13/11/23)
A groundbreaking feasibility study has highlighted the potential for using clean ammonia to refuel ships... Read more
(Posted on 05/11/23)
IAPH has announced the ratification by the IAPH Council of the new IAPH Board. The Board is formed by... Read more
(Posted on 05/11/23)
CN has announced that it acquired from Genesee & Wyoming Inc., a stake in the Cape Breton &... Read more
(Posted on 31/10/23)
Due to continued very high inflation, the Hamburg Port Authority (HPA) will raise port fees by an average... Read more
(Posted on 31/10/23)
The UK's leading ports group, Associated British Ports (ABP), has appointed Jeff Gibb as Lead... Read more
(Posted on 26/10/23)
In the first nine months of 2023, there was 6% less throughput in the port of Rotterdam: 329.9 million... Read more
(Posted on 26/10/23)
After nine months, the total throughput of Port of Antwerp-Bruges was 204.4 million tonnes, a drop of... Read more
(Posted on 19/10/23)
LOGISTEC Corporation have announced that it has entered into an arrangement agreement with 1443373... Read more