CN Announces Nova Scotia partnership with Genesee & Wyoming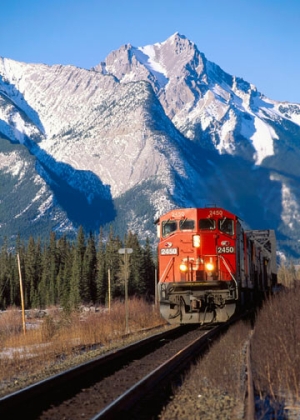 (Posted on 05/11/23)
CN has announced that it acquired from Genesee & Wyoming Inc., a stake in the Cape Breton & Central Nova Scotia Railway that includes 145 miles of active track.
CN safely transports more than 300 million tons of natural resources, manufactured products, and finished goods throughout North America every year.
"We are proud to be partnering with Genesee & Wyoming to serve existing customers on this line. This partnership will further reinforce CN's presence in eastern Canada where we believe there will be a growing role to play in the competitiveness of North American trade. It will also enable our network to reach new opportunities in the longer-term, further advancing our strategic agenda of accelerating profitable, sustainable growth" said Patrick Lortie, Senior Vice-President and Chief Strategy Officer at CN
The CBNS railway, which interchanges with CN's mainline at Truro, Nova Scotia, will continue to be operated by a Genesee & Wyoming Inc. subsidiary. This will ensure a seamless, safe, and efficient continuation of service for customers.
CN's network connects Canada's Eastern and Western coasts with the U.S. South through an 18,600-mile rail network. CN and its affiliates have been contributing to community prosperity and sustainable trade since 1919.
Latest News
(Posted on 07/12/23)
US Port owners should start immediate planning to take advantage of the $3bn available in grants as... Read more
(Posted on 07/12/23)
The Vancouver Fraser Port Authority's board of directors has announced that it has appointed Peter... Read more
(Posted on 03/12/23)
In the presence of Kassym-Jomart Tokayev, President of the Republic of Kazakhstan, AD Ports Group, a... Read more
(Posted on 03/12/23)
Lhyfe, a global pioneer in the production of renewable green hydrogen for transportation and industrial... Read more
(Posted on 26/11/23)
A 194 million euro investment in North Sea Port will secure large-scale CO2 reduction by the largest... Read more
(Posted on 17/11/23)
The Central Association of German Seaport Operators (ZDS) has called for a decisive German port policy... Read more
(Posted on 13/11/23)
A groundbreaking feasibility study has highlighted the potential for using clean ammonia to refuel ships... Read more
(Posted on 05/11/23)
IAPH has announced the ratification by the IAPH Council of the new IAPH Board. The Board is formed by... Read more
(Posted on 31/10/23)
Due to continued very high inflation, the Hamburg Port Authority (HPA) will raise port fees by an average... Read more
(Posted on 31/10/23)
The UK's leading ports group, Associated British Ports (ABP), has appointed Jeff Gibb as Lead... Read more