Bulk leads major upswing for Dunkirk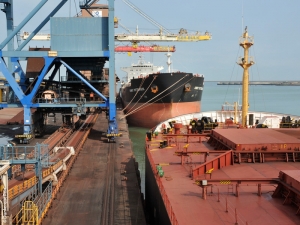 (Posted on 15/01/22)
Solid bulk increased by 11% at the port of Dunkirk to reach 20.1 MT in 2021. Ore, which rose sharply by 29% (11.3 MT), benefited from the sustained pace of steelmaking activity while coal volumes were down very slightly (3.4 MT). The structural decline in demand for steam coal continues even if it is offset by the logical resumption of imports of coking coal. Grain ended the year down 29% to 2.4 MT, compared with a record year in 2020 (3.3 MT). Finally, the very significant increase in the volumes of "small" solid bulk (3 MT, + 16%) reflects the strong upswing in local and regional industrial activity.
Overall, the port of Dunkirk's annual traffic reached 48.6 MT, an increase of more than 8% compared(45.1 MT). While the impact of the COVID-19 pandemic remains visible in terms of Cross-Channel activity, almost all of the other port sectors are on the rise. Containerized traffic jumped 41% to over 650,000 TEUs.
General cargo posted an increase of 3% to reach 19.9 MT. The break-bulk sector rose 48% to stand at 1 MT, under the effect of the resumption of exports of steel products.
Liquid bulk rose markedly by 14% to stand at 8.6 MT. Hydrocarbons increased by 12% (3.7 MT) while LNG activity increased significantly by 17% (4.1 MT). Other flows rose 3% to stand at 0.8 MT.
As a whole, the ro-ro sector recorded a drop in tonnage of 7% to 13.7 MT. With 517,000 units transported (- 15%), Cross-Channel freight traffic recorded a significant drop. The effective implementation of Brexit coincided with the modification of a number of Continental - British Isles transport plans.
Containers posted a spectacular increase of 41% to 652,000 TEUs. Container activity thus recorded
its 9th consecutive year of growth and, since 2010, traffic has multiplied by 3.
The port has forecast that in 2022, business will remain robust. The investment programme approved by the Supervisory Board on 19 November 2021 stands at € 71m, the highest for 5 years.
2022 will be devoted to the continuation of the development work at the West Port.
Latest News
(Posted on 26/11/23)
A 194 million euro investment in North Sea Port will secure large-scale CO2 reduction by the largest... Read more
(Posted on 17/11/23)
The Central Association of German Seaport Operators (ZDS) has called for a decisive German port policy... Read more
(Posted on 13/11/23)
A groundbreaking feasibility study has highlighted the potential for using clean ammonia to refuel ships... Read more
(Posted on 05/11/23)
IAPH has announced the ratification by the IAPH Council of the new IAPH Board. The Board is formed by... Read more
(Posted on 05/11/23)
CN has announced that it acquired from Genesee & Wyoming Inc., a stake in the Cape Breton &... Read more
(Posted on 31/10/23)
Due to continued very high inflation, the Hamburg Port Authority (HPA) will raise port fees by an average... Read more
(Posted on 31/10/23)
The UK's leading ports group, Associated British Ports (ABP), has appointed Jeff Gibb as Lead... Read more
(Posted on 26/10/23)
In the first nine months of 2023, there was 6% less throughput in the port of Rotterdam: 329.9 million... Read more
(Posted on 26/10/23)
After nine months, the total throughput of Port of Antwerp-Bruges was 204.4 million tonnes, a drop of... Read more
(Posted on 19/10/23)
LOGISTEC Corporation have announced that it has entered into an arrangement agreement with 1443373... Read more