Bulk leaders join forces in New England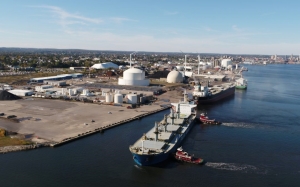 (Posted on 11/06/19)
Logistec has announced that it has entered into a cargo handling operational agreement with Waterson Terminal Services at the Port of Providence's ProvPort, New England's premiere deepwater facility, to provide marine services. This agreement brings together two key marine industry leaders specializing in handling varied cargo including bulk commodities, steel, lumber, general cargo and wind energy components.
Montreal based Logistec offers bulk, break-bulk and container cargo handling services in some 37 ports and 63 terminals located in North America as well as marine transportation services geared primarily to the Arctic coastal trade and marine agency services to foreign shipowners and operators serving the Canadian market.
"We are very pleased to be collaborating with Waterson Terminal Services at ProvPort," explained Rodney Corrigan, President of Logistec Stevedoring Inc. "Our vision and values are well aligned. Like Waterson Terminal Services, Logistec is known for working closely with its customers and supply chain partners to find the best solutions." Logistec and Waterson Terminal Services are also both certified members of the Green Marine Environmental Program, an important voluntary initiative to surpass regulatory requirements in the maritime industry.
Chris Waterson, General Manager of Waterson Terminal Services, stated, "As the exclusive port operator and manager of ProvPort since 2007, Waterson Terminal Services has established excellent working relationships with our customers. With this agreement, we will be able to leverage the ports' strategic location and Logistec's vast network to access international and domestic options for our tenants and customers."
This agreement brings Logistec's expanding operations to 63 terminals in 37 ports across Canada, the U.S. East and U.S. Gulf Coasts. Logistec boasts over 65 years of service excellence in the marine industry and more than 35 years serving customers at ports in states neighbouring Rhode Island.
Logistec and Waterson Terminal Services' unique customer-first approach to terminal operations will translate into cost-effective trade options for new and existing customers, enabling them to reach new markets. They will begin their joint operations this month.
Latest News
(Posted on 26/09/23)
The Port of Rotterdam Authority and Yokogawa Electric Corporation have initiated a feasibility study... Read more
(Posted on 19/09/23)
HES Gdynia in Poland has started the construction works of a grain storage facility extension in port... Read more
(Posted on 12/09/23)
A joint Statement from the United States and the European Union has been released on support for Angola... Read more
(Posted on 08/09/23)
Associated British Ports has announced the successful renewal of a lease agreement with Breedon Group... Read more
(Posted on 04/09/23)
In North Sea Port, the transportation of goods to the hinterland by inland waterway continues to increase... Read more
(Posted on 28/08/23)
Both the tense economic situation in Europe, especially in Germany, and background geopolitical factors... Read more
(Posted on 21/08/23)
Abu Dhabi based AD Ports Group has announced its financial results for the second quarter of 2023, reporting... Read more
(Posted on 14/08/23)
SOHAR Port and Freezone in the Sultanate of Oman, has signed a land lease agreement with Sohar Noble... Read more
(Posted on 09/08/23)
CN has published its 2023-2024 Grain Plan, which builds on the operational improvements introduced this... Read more
(Posted on 02/08/23)
The Maritime Standard is delighted to announce the unveiling of the second session, titled 'Ports and... Read more