AXSMarine selected for provision of training software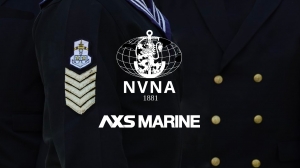 (Posted on 08/06/22)
AXSMarine, a leading provider of SaaS shipping software and data for Dry Bulk, Tanker, and Container vessels, and the Nikola Vaptsarov Naval Academy, Bulgaria's oldest technical institution, have signed a framework agreement for academic collaboration. AXSMarine has provided the Academy with access to its AXSDry chartering solution in order to digitalize educational training further.
AXSDry is AXSMarine's one-stop dry bulk platform of relevant and up-to-date chartering solutions, created to fulfil the needs of shipbrokers, ship owners, cargo traders, port agents, market analysts and other shipping professionals. The agreement with the Nikola Vaptsarov Naval Academy is a continuation of AXSMarine's efforts to expand its service to the whole maritime community and help academia gain speed in the digital world of shipping.
"As one of the forebearers of the digital revolution in shipping, we are extremely satisfied to have been selected by Bulgaria's oldest technical educational institution as a provider of training software for their faculties.", said Steve Fletcher, AXSMarine CCO. "AXSDry is the go-to tool for acquiring the most relevant shipping insights and making the right decisions at the right time" Steve added. "Our collaboration agreement with the Nikola Vaptsarov Naval Academy will ensure their students have access to the latest technology and data on the market."
"Our long and extensive search for the procurement of a modern digital shipping software for our students led us to the AXSDry solution." shared a Representative of the Academy. "We are grateful for the opportunity provided by AXSMarine and are certain with its support our faculty members and students will be graduating with the skillset and knowledgebase necessary for the maritime industry of tomorrow," the Academy's Representative concluded.
Latest News
(Posted on 26/11/23)
Shi.E.L.D. Services has selected Spinergie as its preferred digitized solution provider to monitor and... Read more
(Posted on 26/11/23)
Thousands of cadets and trainees in India will benefit from in-depth wellness training and support thanks... Read more
(Posted on 17/11/23)
As shipping continues its journey to decarbonisation, INTERCARGO will host a special forum in Athens... Read more
(Posted on 13/11/23)
INTERCARGO was deeply saddened and concerned to hear of the reported appalling missile attack on the... Read more
(Posted on 13/11/23)
A new-look Wellness at Sea Awareness Campaign for seafarers, their families and shore staff that &ldquo... Read more
(Posted on 05/11/23)
Classification society DNV has entered into a Joint Development Project (JDP) with AL Group and its... Read more
(Posted on 31/10/23)
Samsung Heavy Industries (SHI) and leading classification society DNV have inked a Memorandum of Understanding... Read more
(Posted on 31/10/23)
WISTA International, during its Annual General Meeting (AGM) held in Montevideo, Uruguay, on 25 October... Read more
(Posted on 31/10/23)
Members of INTERCARGO met in Athens last week for the Association's Annual General Meeting, Executive... Read more
(Posted on 26/10/23)
The Columbia Group (Columbia) has opened a new manning agency, Columbia Shipmanagement Vietnam (CSM... Read more