AXSMarine API Hub revealed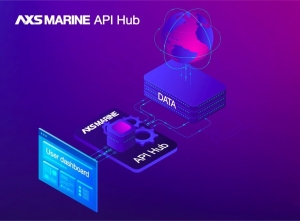 (Posted on 21/07/19)
AXSMarine, a pioneer and market leader in the provision of advanced solutions for shipping professionals, has revealed AXSMarine API Hub – a software-to-software interface enabling applications to communicate quickly and securely with each other, without the need of one's supervision.
This latest addition to the company's extensive portfolio provides a seamless API integration, allowing companies to capitalize on several core benefits. AXSMarine API Hub provides users with full interoperability, advanced integration, data security, analysis customization and workflow optimization.
Founded in 2000, AXSMarine is a global provider of online software solutions to the international shipping industry and is trusted by more than 10,000 users worldwide. Its software solutions deliver remarkable efficiency to commercial chartering processes in Dry, Tanker, and Containership chartering.
AXSMarine API Hub is an entirely online solution that allows access to all-in-one interconnected modules delivering up-to-date raw data. It eliminates any time-consuming limitations through one-click integration and data injection into various systems. Users get full control of their data, including the ability to set-up auto-population of raw data feeds eliminating the need of tedious manual updates.
AXSMarine API Hub includes the company's recently introduced Trade Flows Web Services which are available to all Trade Flows module users, in addition to many other APIs to get the best of AXSMarine Data into their various analytical tools.
AXSMarine API Hub guarantees the best performance and highest level of safety for customers' data through mirroring across multiple locations, engineered to operate independently.
"In the digital era of modern-day shipping, the proper implementation of an application program interface (API) is a business imperative", said Steve Fletcher, CCO of AXSMarine. "We, at AXSMarine, are proactively addressing our customers' changing needs and are thrilled to introduce AXSMarine API Hub to our users worldwide.
AXSMarine API Hub will provide shipping professionals, analysts and financial experts with access to multiple layers of data, including integration between our proprietary up-to-date database and their own raw data.
AXSMarine API Hub can give one the edge when performing in-depth analysis, through the removal of all time-restricting limitations. It will help our customers understand the shipping patterns that matter to them and become masters of their own analysis and time."
Latest News
(Posted on 27/09/23)
As the global shipping industry today celebrates World Maritime Day with its central theme of &ldquo... Read more
(Posted on 26/09/23)
Leading provider of secure maritime data communications software, GTMaritime, has reached 15,000 installations... Read more
(Posted on 26/09/23)
Posidonia Exhibitions, organisers of Posidonia, the International Shipping Exhibition, is launching... Read more
(Posted on 19/09/23)
Seven months after its formal launch, NorthStandard is already realizing tangible benefits from combining... Read more
(Posted on 12/09/23)
Maritime nuclear technology company CORE POWER has boosted its Global Advisory Board with four new high... Read more
(Posted on 12/09/23)
Foreship has relocated its UK subsidiary to larger premises and appointed Tuur Killaars as Senior Sustainability... Read more
(Posted on 08/09/23)
Classification society DNV has signed a Memorandum of Understanding (MoU) with Singapore-based ship... Read more
(Posted on 08/09/23)
Leading blended learning provider Intelligent Seas Group (ISG) is delighted to announce its collaboration... Read more
(Posted on 04/09/23)
Record year-on-year declines in rainfall has been identified as the 'likely culprit' for... Read more
(Posted on 04/09/23)
After years of keeping a vital navigation service operating on the same income, Middle East Navigation... Read more