Amsterdam launches PACT for terminals and agents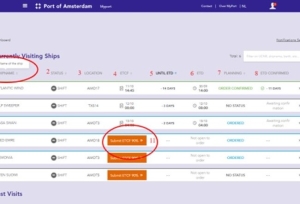 (Posted on 18/04/23)
PACT is a new service on the online port portal MyPort for outgoing sea vessels from agents and terminals in the Amsterdam port.
The Amsterdam port region is one of the world's largest logistics hubs. The port is the world's largest cocoa port and the second largest coal and agribulk transshipment port in Europe. Other commodities handled in Amsterdam include industrial minerals, biomass, iron ore and scrap.
In a statement, the port said, "By sharing smart data with each other, we make the port more predictable and aim to reduce delays. The initiative originated during a Port Performance Meeting (PPM), a periodic consultation with Port of Amsterdam and the companies in the port. After a successful pilot last year, a robust version of PACT was built this year. On 14 April 2023, PACT was be ready for use on MyPort.
Participants update with PACT earlier in the ordering process when they have started the last step of their operational process. This is the so-called ETCF90% (Estimated Time Cargo Finished 90%). The agent receives a notification of this and is not allowed to place an order until he receives this notification. By order, we mean ordering pilots and tugs and reserving the lock.
From 14 April 2023, the actual implementation took place in phases at terminals and agents. Around the summer, there will be feedback to stakeholders on the progress of the implementation and the first user results."
Handling 100 million tonnes in cargo traffic annually, Amsterdam is one of Western Europe's Top 5 sea ports. The Port's strategic and central location within Europe makes it easily accessible and ensures excellent connections to all major European markets.
Latest News
(Posted on 26/09/23)
The Port of Rotterdam Authority and Yokogawa Electric Corporation have initiated a feasibility study... Read more
(Posted on 19/09/23)
HES Gdynia in Poland has started the construction works of a grain storage facility extension in port... Read more
(Posted on 12/09/23)
A joint Statement from the United States and the European Union has been released on support for Angola... Read more
(Posted on 08/09/23)
Associated British Ports has announced the successful renewal of a lease agreement with Breedon Group... Read more
(Posted on 04/09/23)
In North Sea Port, the transportation of goods to the hinterland by inland waterway continues to increase... Read more
(Posted on 28/08/23)
Both the tense economic situation in Europe, especially in Germany, and background geopolitical factors... Read more
(Posted on 21/08/23)
Abu Dhabi based AD Ports Group has announced its financial results for the second quarter of 2023, reporting... Read more
(Posted on 14/08/23)
SOHAR Port and Freezone in the Sultanate of Oman, has signed a land lease agreement with Sohar Noble... Read more
(Posted on 09/08/23)
CN has published its 2023-2024 Grain Plan, which builds on the operational improvements introduced this... Read more
(Posted on 02/08/23)
The Maritime Standard is delighted to announce the unveiling of the second session, titled 'Ports and... Read more