Amsterdam harbour master leaves for Fire Department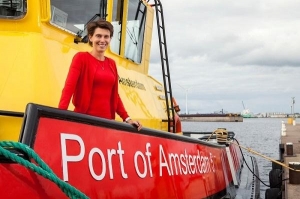 (Posted on 29/04/19)
Marleen van de Kerkhof, Rijkshavenmeester Amsterdam-IJmond and director of Central Nautical Management of the North Sea Canal Area departs from Port of Amsterdam. She will start on 1 July as a new Sector Manager / Deputy Commander at the Amsterdam-Amstelland Fire Department.
The Amsterdam port area is a leading player in the field of dry bulk. Amsterdam is the second largest coal and agribulk transhipment port in Europe and the largest cocoa port in the world.
Marleen van de Kerkhof said: 'I am proud of the results we have achieved within the Harbour Master's Division and with external partners, such as the new timetable for our operation, the new CNB joint arrangement, the set-up of the Port Authority's cyber security program, regional cooperation North Sea canal area and public-private cooperation in the field of fire brigade care. I look forward to my new position at the fire department and hope to make a positive contribution to the development task that the organization stands for. "
Marleen has been working at the Amsterdam Port Authority since 2007 and has been the Harbour Master since September 2015. With the departure of Marleen, Port of Amsterdam loses a driven and committed harbour master. Its duties will be temporarily transferred to two deputy harbour masters.
Latest News
(Posted on 08/02/23)
The municipality of Helgoland has commissioned Hamburg Port Consulting (HPC) to carry out a concept... Read more
(Posted on 06/02/23)
At the conclusion of the 2022 shipping season, Hamilton-Oshawa Port Authority (HOPA) in Canada saw a... Read more
(Posted on 27/01/23)
In addition to helping its 12 member ports decarbonize, the World Ports Climate Action Program (WPCAP... Read more
(Posted on 27/01/23)
The first ship of the year, M/V Cape Alexandros, arrived at 11:00 a.m. on January 4, 2023, from Rotterdam... Read more
(Posted on 27/01/23)
AD Ports Group the leading facilitator of global trade, logistics, and industry, has signed a Memorandum... Read more
(Posted on 23/01/23)
In the presence of the UAE President His Highness Sheikh Mohamed bin Zayed Al Nahyan, and the President... Read more
(Posted on 16/01/23)
The Port of South Louisiana (Port SL) CEO Paul Matthews, has announced that it has entered into a Purchase... Read more
(Posted on 16/01/23)
With 73.6 million tons of cargo transhipment from maritime shipping (+7%) and 64.5 million tons from... Read more
(Posted on 12/01/23)
Despite unfavourable economic conditions, traffic in the port of Dunkerque, the third largest port in... Read more
(Posted on 10/01/23)
North Sea Port CEO Daan Schalck has been looking back as well as forward. 2022, was a year in which... Read more