AD Ports Group delivers remarkable growth in first publicly listed year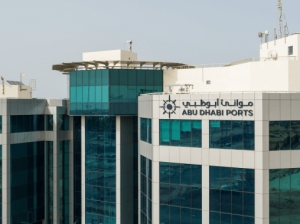 (Posted on 04/01/23)
AD Ports Group has delivered on its commitment to produce remarkable results and extend its international reach in its first year as a publicly traded company, with 2022 becoming one of the most important years in the company's storied history so far.
The year started with the listing of AD Ports Group's shares for the first time on Abu Dhabi Securities Market (ADX) and continued with remarkable achievements through to December 2022, when it was honoured to welcome His Highness Sheikh Mohamed bin Zayed Al Nahyan, President of the UAE, to inaugurate the expansion of Khalifa Port. The expansion works position Khalifa Port among the global elite of deep-water ports, with an estimated value of AED 20.4 billion.
Throughout 2022, AD Ports Group has continued to demonstrate its drive to position Abu Dhabi at the frontier of world trade, adding value to stakeholders through the expansion and improvement of services.
The Group has built new strategic relationships within the region and beyond, which has enabled the group to open new trade corridors. Through new partnerships and shipping routes, AD Ports Group is developing the highest levels of connectivity between the Arabian Gulf, the Indian Ocean, the Red Sea, East Africa, and Central Asia – vital trading partners that will help drive economic growth in the region and internationally.
Major acquisitions have played a key role in AD Ports Group's growth story in 2022. The company completed its first international acquisition in September, acquiring a 70% stake in Egypt's Transmar and TCI, and followed that with agreements to acquire an 80% stake in Global Feeder Shipping (GFS), which will see the group significantly expand its fleet and container capacity, and a 100% stake in Spain's Noatum, a global logistics giant.
Upon completion, these transformational investments will consolidate AD Ports Group's position as a market leader across multiple industries, operating ports and terminals around the world, with a fleet of 175 vessels.
H.E. Falah Mohammad Al Ahbabi, Chairman, AD Ports Group, said: "Throughout 2022, AD Ports Group has demonstrated its consistent efforts to evolve the services we offer to customers, while supporting Abu Dhabi's aims to be a leading global hub for trade and logistics. AD Ports Group is proud to have delivered a remarkable growth story in 2022, expanding our global connectivity through new trade corridors, and becoming a truly global company through organic growth and international acquisitions.
"As we work to further develop infrastructure across assets in the UAE and beyond, our objective is to position the company as a global enabler that supports industrial growth and contributes to our leaders' strategic aims to diversify the UAE economy."
Capt. Mohamed Juma Al Shamisi, Managing Director and Group CEO, AD Ports Group, said: "2022 has been a strong and historic year for AD Ports Group and we are proud to have shown a consistent drive to advance our business model and operations. AD Ports Group has evolved from a key contributor to Abu Dhabi's economy into a publicly listed entity with an expanding global reach that is actively transforming key industries worldwide.
We believe that there are major opportunities ahead for AD Ports Group in international markets, and we have used our time in 2022 to restructure our company into empowered business clusters that work together to achieve our strategic goals. As always, we thank the leadership of the UAE for their guidance and support, which has enabled us to move so far and so fast as a business."
To further support its growth aspirations, the company announced several key acquisitions, such as Divetech and ASCL and joint ventures within the UAE including the launch of SAFEEN Invictus and SAFEEN Surveys and Subsea Services. These strategic initiatives opened new business segments and service offerings for its Maritime Cluster, which has emerged as one of the most dynamic in the sector.
Throughout 2022, AD Ports Group continued to build its global presence, signing agreements with port authorities and partners around the world, including contracts with the Red Sea Ports Authority for major port projects along Egypt's coastline and with SEG, one of the largest oil and gas companies in Uzbekistan, to open new logistics and freight businesses in the Central Asian nation.
Latest News
(Posted on 26/11/23)
A 194 million euro investment in North Sea Port will secure large-scale CO2 reduction by the largest... Read more
(Posted on 17/11/23)
The Central Association of German Seaport Operators (ZDS) has called for a decisive German port policy... Read more
(Posted on 13/11/23)
A groundbreaking feasibility study has highlighted the potential for using clean ammonia to refuel ships... Read more
(Posted on 05/11/23)
IAPH has announced the ratification by the IAPH Council of the new IAPH Board. The Board is formed by... Read more
(Posted on 05/11/23)
CN has announced that it acquired from Genesee & Wyoming Inc., a stake in the Cape Breton &... Read more
(Posted on 31/10/23)
Due to continued very high inflation, the Hamburg Port Authority (HPA) will raise port fees by an average... Read more
(Posted on 31/10/23)
The UK's leading ports group, Associated British Ports (ABP), has appointed Jeff Gibb as Lead... Read more
(Posted on 26/10/23)
In the first nine months of 2023, there was 6% less throughput in the port of Rotterdam: 329.9 million... Read more
(Posted on 26/10/23)
After nine months, the total throughput of Port of Antwerp-Bruges was 204.4 million tonnes, a drop of... Read more
(Posted on 19/10/23)
LOGISTEC Corporation have announced that it has entered into an arrangement agreement with 1443373... Read more