AD Ports Group delivers 66% year-on-year revenue growth in Q2 2023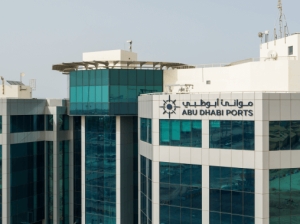 (Posted on 21/08/23)
Abu Dhabi based AD Ports Group has announced its financial results for the second quarter of 2023, reporting revenue growth of 66% YoY to AED 2.1 billion, driven by volume growth in key sectors, business diversification as well as local, regional, and international expansion both organically and through M&A. Revenue growth reached 44% YoY on a like-for-like basis (LFL), excluding effect from M&A activity. Maritime, Digital, and Ports Clusters were the key growth drivers with 208%, 26%, and 22% YoY, respectively.
Established in 2006, AD Ports Group today serves as one of the world's premier facilitator of logistics, industry, and trade, as well as a bridge linking Abu Dhabi to the world. Listed on the Abu Dhabi Securities Exchange (ADX: ADPORTS), AD Ports Group's vertically integrated business approach has proven instrumental in driving the emirate's economic development over the past decade.
Captain Mohamed Juma Al Shamisi, Managing Director and Group CEO, AD Ports Group, said: "I am delighted with our strong financial performance for Q2 2023. With a remarkable 66% YoY revenue growth to AED 2.1 billion, we are successfully executing our diversification strategy and leveraging synergies from our recent acquisitions, paving the way for continued growth and value creation for our stakeholders, driven by the support of our wise leadership"
In addition to the completion of the Noatum acquisition these are the key business developments that took place in Q2 2023.
In June 2023, AD Ports Group announced a concession agreement with Karachi Port Trust (KPT), the Pakistani federal government agency that oversees the operations of the Port of Karachi. Under the terms of the 50-year concession agreement, a UAE-based company has been formed to manage, operate and develop the Karachi Gateway Terminal Limited (KGTL), berths 6-9 at Karachi Port's East Wharf. The terminal's revenues are all dollarised with no foreign exchange exposure to the Pakistani Rupee.
An additional announcement in June included the signing of a 30-year concession agreement with the Government of the Republic of the Congo for managing and operating the multipurpose New East Mole Terminal at Pointe-Noire. AD Ports Group will invest more than AED ~1.84 billion (USD 500 million) over the lifetime of the concession, with around AED ~810 million (USD 220 million) allocated for phase 1, which is expected to be completed over the next 30 months.
AD Ports Group and Premier Marine Engineering Services LLC (Premier Marine) formed a new joint venture, SAFEEN Drydocks in June 2023. The joint venture is structured as a 51% ownership by AD Ports Group and 49% by Premier Marine. The hub of SAFEEN Drydocks' operations will be located at Khalifa Port and will encompass a 45,000 sqm shipyard and repair facility, 350m quay wall for vessel afloat repair, and a floating dry dock for vessel maintenance and refurbishment.
The Group also signed a 25-year agreement with Singapore based Crystal Offshore, a recognised one-stop logistics solution provider to the Marine & Offshore industry. Under the terms of the agreement, a 20,000 sqm plot of land and an associated quay wall in Khalifa Port will be allocated for Crystal Offshore to construct a base, featuring office facilities and fabrication workshops to provide advanced repairs and refits to jack-up rigs as well as marine and offshore vessels.
Khalifa Port, AD Ports Group flagship deep-water port was ranked the 3rd most efficient container port globally in the recently published Container Port Performance Index (CPPI) developed by the World Bank and S&P Global Market Intelligence.
In July 2023, Khalifa Economic Zones Abu Dhabi – KEZAD Group, the integrated trade, logistics and industrial hub of Abu Dhabi, and Al Jazeera Steel Products Co held the ground-breaking ceremony of the region's first rolling mill with rail production capability in Abu Dhabi on 12th July 2023. The state-of-the-art, innovative and cutting-edge 450,000 tons per annum medium section mill will cover an area of 210,000 sqm in KEZAD and will cater to the growing customer demand for steel products as well as other growing requirements for products produced efficiently through KEZAD.
Latest News
(Posted on 26/09/23)
The Port of Rotterdam Authority and Yokogawa Electric Corporation have initiated a feasibility study... Read more
(Posted on 19/09/23)
HES Gdynia in Poland has started the construction works of a grain storage facility extension in port... Read more
(Posted on 12/09/23)
A joint Statement from the United States and the European Union has been released on support for Angola... Read more
(Posted on 08/09/23)
Associated British Ports has announced the successful renewal of a lease agreement with Breedon Group... Read more
(Posted on 04/09/23)
In North Sea Port, the transportation of goods to the hinterland by inland waterway continues to increase... Read more
(Posted on 28/08/23)
Both the tense economic situation in Europe, especially in Germany, and background geopolitical factors... Read more
(Posted on 14/08/23)
SOHAR Port and Freezone in the Sultanate of Oman, has signed a land lease agreement with Sohar Noble... Read more
(Posted on 09/08/23)
CN has published its 2023-2024 Grain Plan, which builds on the operational improvements introduced this... Read more
(Posted on 02/08/23)
The Maritime Standard is delighted to announce the unveiling of the second session, titled 'Ports and... Read more
(Posted on 01/08/23)
Abu Dhabi based AD Ports Group, the leading global facilitator of trade, logistics, and industry, and... Read more