AD Ports Group announces record results for 2022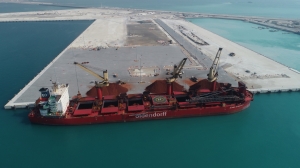 (Posted on 20/02/23)
AD Ports Group a global premier facilitator of logistics, industry and trade, has announced its financial results for the 12 months ended December 31, 2022, reporting strong operational and financial performance, with revenue growth of 41% year-on-year to AED 5.5 billion (+23% year-on-year to AED 4.8 billion organically).
The Group's strong results were driven by the performance of its Maritime and Ports Clusters as well as acquisitions and new partnerships. EBITDA increased to AED 2.2 billion in 2022, +37% YoY (+24% YoY to AED 546 million in Q4 2022). Organically, EBITDA grew by 27% YoY to AED 2.0 billion. Total Net Profit reached AED 1.3 billion in 2022, +53% YoY (+42% YoY to AED 365 million in Q4 2022)
On a like-for-like (LFL) basis, general cargo volumes increased by 3% to reach 31.7 million tonnes in 2022, compared with 44.6 million tonnes in 2021, which included a one-off sand supply project of 14.7 million tonnes. Container throughput grew to 4.33 million TEUs (twenty-foot equivalent units) in 2022, +28% year-on-year (+27% year-on-year to 1.17 million TEUs in Q4 2022) as utilisation of the two existing container terminals continued to improve (51% in 2022 vs. 40% in 2021 and 55% in Q4 2022 vs. 43% in Q4 2021).
Ro-Ro and Cruise Passenger volumes also rebounded strongly on the back of the abated effect of the COVID-19 pandemic.
In the EC&FZ Cluster, 4.2 sq.km. of new leases (net) were signed in 2022.
In the Maritime Cluster, all operational indicators - vessel fleet, port calls, container feedering volumes, transhipment volumes, marine services activities - recorded strong growth.
In the Logistics Cluster, the key highlight in Q4 2022 was the acquisition announcement of 100% ownership of Noatum, a logistics services provider with presence in 26 countries across five continents, for an Enterprise Value of EUR 660 million. The value and earnings accretive acquisition, will, upon completion, significantly broaden AD Ports Group's global footprint and position it among the leading logistics and freight forwarding companies in the world.
In September 2022, AD Ports Group also completed the acquisition of a 70% stake in International Associated Cargo Carrier (IACC) in Egypt, which fully owns Transmar and TCI, for an Enterprise Value of AED 514 million (USD 140 million).
In total, the Group inked seven M&A transactions in 2022 totalling AED 5.9 billion, with GFS, Noatum, and Eskan Al Jamae yet to be completed.
In terms of financial performance, EC&FZ Cluster recorded revenue increase of 6% year-on-year to reach AED 1,658 million in 2022, benefitting from previously signed land leases, higher utilities revenues, strong momentum in warehouses revenues, as well as positive revenue effect of previous contingent asset related to leases out of Razeen worker residential cities for COVID-19 isolation and quarantine purposes.
Captain Mohamed Juma Al Shamisi, Managing Director and Group CEO, AD Ports Group, said: "2022 was an exceptional year for AD Ports Group with strong results reflecting the effectiveness of our ambitious growth strategy, and the focus on delivering on our promises to our shareholders and stakeholders, thanks to the continuous support of our wise leadership.
"The Group's remarkable financial and operational performance was driven by our Maritime and Ports Clusters' results, coupled with strategic investments, new joint ventures, partnerships and acquisitions that enabled us to expand our geographic footprint, our services and offerings as well as enhance our position as a major player in global trade and logistics. For 2023, we will be focusing on maximising returns and generating portfolio synergies, while providing our customers with superior end to end supply chain outcomes."
Latest News
(Posted on 26/11/23)
A 194 million euro investment in North Sea Port will secure large-scale CO2 reduction by the largest... Read more
(Posted on 17/11/23)
The Central Association of German Seaport Operators (ZDS) has called for a decisive German port policy... Read more
(Posted on 13/11/23)
A groundbreaking feasibility study has highlighted the potential for using clean ammonia to refuel ships... Read more
(Posted on 05/11/23)
IAPH has announced the ratification by the IAPH Council of the new IAPH Board. The Board is formed by... Read more
(Posted on 05/11/23)
CN has announced that it acquired from Genesee & Wyoming Inc., a stake in the Cape Breton &... Read more
(Posted on 31/10/23)
Due to continued very high inflation, the Hamburg Port Authority (HPA) will raise port fees by an average... Read more
(Posted on 31/10/23)
The UK's leading ports group, Associated British Ports (ABP), has appointed Jeff Gibb as Lead... Read more
(Posted on 26/10/23)
In the first nine months of 2023, there was 6% less throughput in the port of Rotterdam: 329.9 million... Read more
(Posted on 26/10/23)
After nine months, the total throughput of Port of Antwerp-Bruges was 204.4 million tonnes, a drop of... Read more
(Posted on 19/10/23)
LOGISTEC Corporation have announced that it has entered into an arrangement agreement with 1443373... Read more