AD Ports and Saab UAE MoU to set new standards for efficiency and safety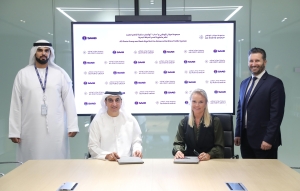 (Posted on 01/08/23)
Abu Dhabi based AD Ports Group, the leading global facilitator of trade, logistics, and industry, and Saab UAE, a leading defence and security company based in Abu Dhabi's Tawazun Industrial Park, have entered into a Memorandum of Understanding (MoU) to establish a strategic cooperative relationship, which will see both entities collaborate on the development of maritime surveillance solutions and sensors.
Under the agreement, AD Ports Group, with its vast experience and expertise in port operations, will provide access to relevant testing sites, offering necessary infrastructure and operational feedback to optimize the development process. Saab UAE will build on its wide-ranging maritime traffic management expertise to bring new industry standards and next generation maritime surveillance technology to market.
Othman Al Khouri, Executive Director Corporate Authority, AD Ports Group, said: "We are committed to adopting cutting-edge technologies that enhance our operations. Collaborating with Saab will allow us to explore innovative surveillance solutions and contribute to the overall safety of our ports."
He added, "We also see significant potential for improving port and maritime security systems, effectively enhancing the safety and security performance of trade, logistics, and ports in Abu Dhabi and beyond."
Anna-Karin Rosén, Managing Director of Saab in the UAE, said: "We are delighted to build on our relationship with AD Ports Group, a prominent leader in the port operations industry. This MoU marks a significant step forward in our commitment to provide our customers with world-class security and surveillance solutions. This partnership has the potential to revolutionise vessel traffic management and port operations, setting new industry standards for efficiency and safety."
She added: "Our decades-long operations here in the UAE are growing from strength to strength. Today, to underpin growth in the country's defence and security ecosystem, we are proud to have expanded our UAE mandate to include a R&D and manufacturing facility based in Abu Dhabi."
Saab is an early investor in the UAE having started its operations in the 1980s. Using its unrivalled innovation, expertise and capabilities, Saab UAE aims to create world-class Emirati defence and security solutions, for national needs as well as the global market.
Latest News
(Posted on 07/12/23)
US Port owners should start immediate planning to take advantage of the $3bn available in grants as... Read more
(Posted on 07/12/23)
The Vancouver Fraser Port Authority's board of directors has announced that it has appointed Peter... Read more
(Posted on 03/12/23)
In the presence of Kassym-Jomart Tokayev, President of the Republic of Kazakhstan, AD Ports Group, a... Read more
(Posted on 03/12/23)
Lhyfe, a global pioneer in the production of renewable green hydrogen for transportation and industrial... Read more
(Posted on 26/11/23)
A 194 million euro investment in North Sea Port will secure large-scale CO2 reduction by the largest... Read more
(Posted on 17/11/23)
The Central Association of German Seaport Operators (ZDS) has called for a decisive German port policy... Read more
(Posted on 13/11/23)
A groundbreaking feasibility study has highlighted the potential for using clean ammonia to refuel ships... Read more
(Posted on 05/11/23)
IAPH has announced the ratification by the IAPH Council of the new IAPH Board. The Board is formed by... Read more
(Posted on 05/11/23)
CN has announced that it acquired from Genesee & Wyoming Inc., a stake in the Cape Breton &... Read more
(Posted on 31/10/23)
Due to continued very high inflation, the Hamburg Port Authority (HPA) will raise port fees by an average... Read more