Abu Dhabi's launch for FinTech innovators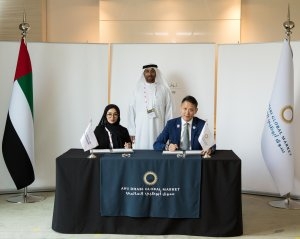 (Posted on 20/09/18)
Maqta Gateway, an Abu Dhabi Ports subsidiary, and Abu Dhabi Global Market have signed a Memorandum of Understanding (MoU) to collaborate on innovation projects, technologies and knowledge transfer. The signing took place on the side-lines of the FinTech Abu Dhabi 2018, one of the leading FinTech events in the MENA region which is organized by Abu Dhabi Global Market.
The agreement aims to spur economic growth, creative thinking and entrepreneurism through setting up a platform from which FinTech innovator firms can test and launch products, services and business solutions within a regulated environment.
Both entities will exchange expertise and partner for joint innovation projects to develop and apply technologies in the areas of digital and mobile payments, blockchain and distributed ledgers, flexible platforms (API), among others. The partnership further entails establishing knowledge transfer programmes, facilitating the sourcing of project partners or sponsors and helping FinTech entrepreneurs on understanding commercial or regulatory requirements in relation to their business activities.
Dr. Noura Al Dhaheri, CEO of Maqta Gateway, expressed her optimistic view of the MoU, saying; "Through combining our respective resources and expertise, ADGM and Maqta Gateway will better be able to support entrepreneurs and innovators studying and developing emerging technologies and innovative solutions to contribute to the economic development of the UAE. Our company is characterized by its innovative and technological solutions, and through our partnership with ADGM's Financial Services Regulatory Authority (FSRA), we to support and enhance the digital community and innovators."
Richard Teng, CEO of FSRA, ADGM, said: "We are excited to be partnering with Maqta Gateway and the Abu Dhabi Ports, to support innovation and initiatives that serve the commerce and trading in Abu Dhabi and the wider UAE economy. International trade supports the growth of SMEs and corporations. Maqta Gateway is a natural partner in our efforts to provide our SME and entrepreneurial community with greater access to trade finance and growth opportunities. As an IFC and financial regulator, we will continue to collaborate with like-minded partners to support the growth of the FinTech and business communities locally and globally."
Inaugurated in October 2017, Maqta Gateway is a transformational project spearheaded by Abu Dhabi Ports, setting out to re-define Abu Dhabi's trade services, processes and information exchange through a unified interface that connects various trade customers, including shipping agents, traders, custom brokers, freight forwarders and clearing agents, with entities integrated within the system locally and internationally.
Latest News
(Posted on 08/02/23)
The municipality of Helgoland has commissioned Hamburg Port Consulting (HPC) to carry out a concept... Read more
(Posted on 06/02/23)
At the conclusion of the 2022 shipping season, Hamilton-Oshawa Port Authority (HOPA) in Canada saw a... Read more
(Posted on 27/01/23)
In addition to helping its 12 member ports decarbonize, the World Ports Climate Action Program (WPCAP... Read more
(Posted on 27/01/23)
The first ship of the year, M/V Cape Alexandros, arrived at 11:00 a.m. on January 4, 2023, from Rotterdam... Read more
(Posted on 27/01/23)
AD Ports Group the leading facilitator of global trade, logistics, and industry, has signed a Memorandum... Read more
(Posted on 23/01/23)
In the presence of the UAE President His Highness Sheikh Mohamed bin Zayed Al Nahyan, and the President... Read more
(Posted on 16/01/23)
The Port of South Louisiana (Port SL) CEO Paul Matthews, has announced that it has entered into a Purchase... Read more
(Posted on 16/01/23)
With 73.6 million tons of cargo transhipment from maritime shipping (+7%) and 64.5 million tons from... Read more
(Posted on 12/01/23)
Despite unfavourable economic conditions, traffic in the port of Dunkerque, the third largest port in... Read more
(Posted on 10/01/23)
North Sea Port CEO Daan Schalck has been looking back as well as forward. 2022, was a year in which... Read more