ABP signs new contract with ADM Fertiliser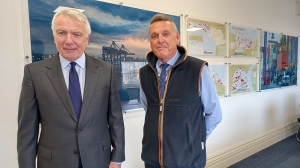 (Posted on 07/09/22)
Associated British Ports (ABP) has welcomes long term customer ADM's fertiliser division to the Humber in a new contract.
ADM Agriculture, one of the largest fertiliser suppliers in the UK, have signed a three-year extension agreement with ABP for the import, handling, bagging, and processing of fertiliser at ABP's Bulk Park at the Port of Immingham. It will see extensive fertiliser volumes come through the UK's largest port by volume of tonnage.
Simon Bird, Regional Director of the Humber ports said: "We're delighted to welcome ADM's fertiliser division to the ABP family at the port of Immingham. ADM are a long-term customer of ours, a premier global human and animal nutrition company and one of the world's largest agricultural processors.
"This new partnership highlights the port's key location in global trading and that we remain the port of choice for many."
Calum Findlay, Head of Fertiliser for ADM, said: "The Port of Immingham is key to the on-going development of our UK fertiliser business, and we are delighted to be in partnership with ABP."
ADM Agriculture supply an extensive range of fertiliser products. ABP's Immingham Bulk Park offers more than 1.3 million sqm of undercover storage. In 2018 it won 'Best Dry Bulk Port' at the International Bulk Journal awards.
As a vital part of the supply chains of businesses throughout the nation, ABP's 21 ports support 119,000 jobs and contribute £7.5 billion to the economy every year, handling £150 billion of trade.
ABP has some of the largest agribulk handling facilities in the UK and Europe, such as the award-winning Immingham Bulk Park (IBP) which offers more than 1.3 million sqm of undercover storage and the Humber International Terminal, also located at the Port of Immingham, which allows cargoes of up to 100,000 tonnes of bulk material to be discharged and stored in dedicated facilities.
Latest News
(Posted on 26/09/23)
The Port of Rotterdam Authority and Yokogawa Electric Corporation have initiated a feasibility study... Read more
(Posted on 19/09/23)
HES Gdynia in Poland has started the construction works of a grain storage facility extension in port... Read more
(Posted on 12/09/23)
A joint Statement from the United States and the European Union has been released on support for Angola... Read more
(Posted on 08/09/23)
Associated British Ports has announced the successful renewal of a lease agreement with Breedon Group... Read more
(Posted on 04/09/23)
In North Sea Port, the transportation of goods to the hinterland by inland waterway continues to increase... Read more
(Posted on 28/08/23)
Both the tense economic situation in Europe, especially in Germany, and background geopolitical factors... Read more
(Posted on 21/08/23)
Abu Dhabi based AD Ports Group has announced its financial results for the second quarter of 2023, reporting... Read more
(Posted on 14/08/23)
SOHAR Port and Freezone in the Sultanate of Oman, has signed a land lease agreement with Sohar Noble... Read more
(Posted on 09/08/23)
CN has published its 2023-2024 Grain Plan, which builds on the operational improvements introduced this... Read more
(Posted on 02/08/23)
The Maritime Standard is delighted to announce the unveiling of the second session, titled 'Ports and... Read more