ABP invests £8m for bespoke Frontier warehouse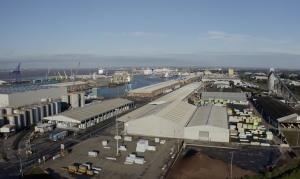 (Posted on 26/07/21)
Associated British Ports (ABP) is investing £8 million to build a bespoke warehouse for valued customer Frontier Agriculture, the latest in a series of recent major investments by ABP in the Humber, as the business continues to expand.
Crop production and grain marketing business Frontier Agriculture is keen to increase it's port based storage facilities located at the Port of Hull. The Humber Ports already play a major role in supporting the agricultural sector across the North and the Midlands.
As part of a new 12 year deal, ABP has commissioned a new 6,455m2 (internal) warehouse to accommodate Frontier's growing business.
The warehouse will have a 40,386 tonne capacity, with an eight bay configuration and be used to store agricultural products, primarily grains, used in the manufacture of food.
For many years, supported by ABP's stevedore service, Frontier has been exporting and importing wheat, barley, beans, rice and maize via the Port of Hull's dry bulks Terminal. This new investment will help to grow those operations and will be a good boost to the local economy.
Simon Bird, Director at ABP Humber, said, "ABP has a longstanding relationship with Frontier Agriculture, who have been utilising the Humber ports for many years and it is great to be able to support their expansion.
This latest investment by ABP follows a number of others in the Humber in recent months in support of a range of sectors. Such investments are building confidence, and customers from across all sectors of the economy see the Humber Ports as a key link in their supply chain."
Simon Christensen, Frontier Agriculture Grain Director, said, "Our relationship with the Port of Hull enables us to access export markets for UK farmers' surplus grains when market opportunities arise, and to import specialist grains that cannot easily be grown in the UK, for example, high quality milling wheats. The port has good transportation links which speed the movement of local farmers' grain to export markets. Meanwhile, cargo arriving at the Port can be moved to millers and food manufacturers efficiently."
The new warehouse will be located near to the port's East Gate entrance. I & H Brown Ltd are the appointed contractors working with ABP to complete the project by the end of January 2022.
Frontier Agriculture is the UK's leading crop production and grain marketing business, recognised for its close customer relationships with farmers and grain consumers and its successful management of the arable supply chain.
Frontier was formed in 2005 as a joint venture between Associated British Foods plc and Cargill Inc. and now turns over around £1.5 billion per annum.
Latest News
(Posted on 07/12/23)
US Port owners should start immediate planning to take advantage of the $3bn available in grants as... Read more
(Posted on 07/12/23)
The Vancouver Fraser Port Authority's board of directors has announced that it has appointed Peter... Read more
(Posted on 03/12/23)
In the presence of Kassym-Jomart Tokayev, President of the Republic of Kazakhstan, AD Ports Group, a... Read more
(Posted on 03/12/23)
Lhyfe, a global pioneer in the production of renewable green hydrogen for transportation and industrial... Read more
(Posted on 26/11/23)
A 194 million euro investment in North Sea Port will secure large-scale CO2 reduction by the largest... Read more
(Posted on 17/11/23)
The Central Association of German Seaport Operators (ZDS) has called for a decisive German port policy... Read more
(Posted on 13/11/23)
A groundbreaking feasibility study has highlighted the potential for using clean ammonia to refuel ships... Read more
(Posted on 05/11/23)
IAPH has announced the ratification by the IAPH Council of the new IAPH Board. The Board is formed by... Read more
(Posted on 05/11/23)
CN has announced that it acquired from Genesee & Wyoming Inc., a stake in the Cape Breton &... Read more
(Posted on 31/10/23)
Due to continued very high inflation, the Hamburg Port Authority (HPA) will raise port fees by an average... Read more