ABP agrees new lease in Newport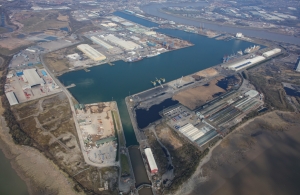 (Posted on 10/12/20)
The Port of Newport, owned and operated by Associated British Ports, the UK's leading port operator, has agreed a new lease with family-owned metal recycling company, Bayliss Metals, to support its growing operations in the region.
The new lease covers a 1.5 acres site on the East Lock at the port, which provides a facility allowing Bayliss Metals to prepare and assemble cargo for export. ABP has invested around £1 million to upgrade the site for the company's use by providing concrete surfacing, drainage and lighting.
Bayliss Metals currently operates three yards, which specialise in receiving and processing ferrous and non-ferrous scrap metal in South Wales.
Ian Lewis, Sales Manager at Bayliss Metals, said: "The new facility at Newport Docks gives us the ability to diversify our sales base and take advantage of new export market opportunities. The site will play a pivotal role in our future expansion plans."
"We are delighted that we have provided Bayliss Metals with a facility that will help them export with greater flexibility and a variety of shipping options. We look forward to continuing to support their family business to the benefit of the regional economy," said Andrew Harston
Across its ports of Cardiff, Newport, Barry, Port Talbot and Swansea, ABP's extensive portfolio of built space includes opportunities for port-centric warehousing and logistics, multi-use warehousing, storage facilities and office accommodation.
Businesses interested in finding out more about leasing and development opportunities are invited to contact ABP's property agents Cushman & Wakefield or visit property.abports.co.uk for more information.
Latest News
(Posted on 07/12/23)
US Port owners should start immediate planning to take advantage of the $3bn available in grants as... Read more
(Posted on 07/12/23)
The Vancouver Fraser Port Authority's board of directors has announced that it has appointed Peter... Read more
(Posted on 03/12/23)
In the presence of Kassym-Jomart Tokayev, President of the Republic of Kazakhstan, AD Ports Group, a... Read more
(Posted on 03/12/23)
Lhyfe, a global pioneer in the production of renewable green hydrogen for transportation and industrial... Read more
(Posted on 26/11/23)
A 194 million euro investment in North Sea Port will secure large-scale CO2 reduction by the largest... Read more
(Posted on 17/11/23)
The Central Association of German Seaport Operators (ZDS) has called for a decisive German port policy... Read more
(Posted on 13/11/23)
A groundbreaking feasibility study has highlighted the potential for using clean ammonia to refuel ships... Read more
(Posted on 05/11/23)
IAPH has announced the ratification by the IAPH Council of the new IAPH Board. The Board is formed by... Read more
(Posted on 05/11/23)
CN has announced that it acquired from Genesee & Wyoming Inc., a stake in the Cape Breton &... Read more
(Posted on 31/10/23)
Due to continued very high inflation, the Hamburg Port Authority (HPA) will raise port fees by an average... Read more