$7 million investment to enrich minerals portfolio in Sohar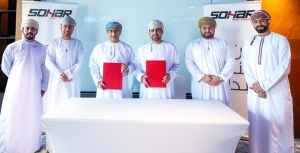 (Posted on 14/08/23)
SOHAR Port and Freezone in the Sultanate of Oman, has signed a land lease agreement with Sohar Noble Metals (FZC), for the production of Vanadium and Niobium metals in SOHAR Freezone. With a total investment of USD 7 million, this project will significantly enrich the minerals portfolio in SOHAR, enhancing industrial diversity. Vanadium and Niobium play crucial roles as additives in the metals industry, enhancing the strength and durability of various types of metals.
The project, covering an area of 5,000 square meters, will be designed and constructed to supply the superalloys industries within the United States and Europe markets with Vanadium and Niobium ingots.
Commenting on this achievement, Khalid Ahmed Al Balushi, Director of Sohar Noble Metals (FZC) LLC stated, "We are excited about this agreement with SOHAR Freezone and the promising opportunities it offers to investors. By leveraging the strategic advantages provided by SOHAR Freezone and its continued growth, the upcoming Vanadium and Niobium production plant will not only expand our minerals range but also foster local value creation."
Haitham Al Omairi, Business Development Manager at SOHAR Port and Freezone commented, "The production of Vanadium and Niobium Plant in SOHAR Freezone represents a significant milestone and a crucial step in our continuous efforts to industrial diversification in SOHAR Freezone. Establishing the plant reflects our commitment to foster a robust industrial ecosystem, reassuring our strategic role in driving the end-to-end metal manufacturing value chain."
The project output is expected to attract further investments from companies reliant on these crucial metals which will enhance the continuous development of SOHAR Freezone.
With multinational investments to-date of over US26$ billion, it is one of the world`s fastest-growing port and free zone developments and lies at the centre of global trade routes between Asia and Europe. The port was originally built around three industrial clusters for metals, petrochemicals, and logistics. Recently a fourth cluster was added with the launch of SOHAR Food Zone. The Food Zone offers the region's first dedicated agro bulk terminal with integrated facilities for food manufacturing, packaging, and food logistics.
Latest News
(Posted on 07/12/23)
US Port owners should start immediate planning to take advantage of the $3bn available in grants as... Read more
(Posted on 07/12/23)
The Vancouver Fraser Port Authority's board of directors has announced that it has appointed Peter... Read more
(Posted on 03/12/23)
In the presence of Kassym-Jomart Tokayev, President of the Republic of Kazakhstan, AD Ports Group, a... Read more
(Posted on 03/12/23)
Lhyfe, a global pioneer in the production of renewable green hydrogen for transportation and industrial... Read more
(Posted on 26/11/23)
A 194 million euro investment in North Sea Port will secure large-scale CO2 reduction by the largest... Read more
(Posted on 17/11/23)
The Central Association of German Seaport Operators (ZDS) has called for a decisive German port policy... Read more
(Posted on 13/11/23)
A groundbreaking feasibility study has highlighted the potential for using clean ammonia to refuel ships... Read more
(Posted on 05/11/23)
IAPH has announced the ratification by the IAPH Council of the new IAPH Board. The Board is formed by... Read more
(Posted on 05/11/23)
CN has announced that it acquired from Genesee & Wyoming Inc., a stake in the Cape Breton &... Read more
(Posted on 31/10/23)
Due to continued very high inflation, the Hamburg Port Authority (HPA) will raise port fees by an average... Read more