£30m investment to enhance British Steel port facility operations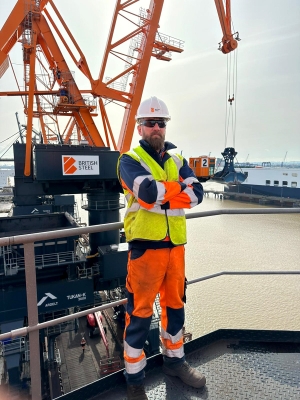 (Posted on 19/04/23)
A £30 million investment in 3 new unloaders at Immingham Bulk Terminal is gearing up to play a vital role in the reliable and efficient flow of raw materials to British Steel's manufacturing operations in Scunthorpe.
The world-class rail-mounted unloaders were built in Germany by Kocks Ardelt Kranbau and transported to the port facility on specialist heavy-lift vessels. Rob Draper, British Steel's Port Manager at Immingham Bulk Terminal (IBT), said: "These Tukan cranes are a real step forward for our port operations. They're equipped with the latest technical advances in dig depth optimisation, a system designed by Ardelt engineers to ensure continuous peak performance and eliminate inefficiencies.
"They also have an operating radius designed for the largest dry cargo ships and with their ability to slew (rotate) too, they're much more flexible – and that brings huge advantages during vessel cleaning, grab changes and maintenance."
The new unloaders benefit from latest technological advances so can handle large volumes of material much more efficiently as well as having lower electrical demands compared to their predecessors.
Rob added: "It's fantastic to see these impressive machines at Immingham, their scale is truly awesome. It's exciting to start embracing the new technology they offer and there is no doubt they'll be hugely beneficial to our efficient unloading activities."
This scheme is just one of a series of investments made by Jingye Group since it acquired British Steel in 2020, totalling around £330 million. Other significant investments include:
£54 million invested in a new billet caster at the company's Scunthorpe site
A £26 million Mast Service Centre for British Steel's Special Profiles business in Skinningrove
£14.6 million invested to enhance the company's energy operations including improvements to recycling works-arising gases and electricity generation
British Steel have been making iron since 1864 and steel since 1890. Now under the ownership of Jingye, one of China's leading steelmakers, they embarking on a major modernisation programme that will significantly improve manufacturing operations, energy efficiency and environmental performance.
British Steel manufacture more than 1,450 different specifications of steel that is rolled into rail, wire rod, sections, special profiles, billet, bloom and slab. We employ more than 4,000 people, around 300 of whom are in the Netherlands.
Latest News
(Posted on 07/12/23)
US Port owners should start immediate planning to take advantage of the $3bn available in grants as... Read more
(Posted on 07/12/23)
The Vancouver Fraser Port Authority's board of directors has announced that it has appointed Peter... Read more
(Posted on 03/12/23)
In the presence of Kassym-Jomart Tokayev, President of the Republic of Kazakhstan, AD Ports Group, a... Read more
(Posted on 03/12/23)
Lhyfe, a global pioneer in the production of renewable green hydrogen for transportation and industrial... Read more
(Posted on 26/11/23)
A 194 million euro investment in North Sea Port will secure large-scale CO2 reduction by the largest... Read more
(Posted on 17/11/23)
The Central Association of German Seaport Operators (ZDS) has called for a decisive German port policy... Read more
(Posted on 13/11/23)
A groundbreaking feasibility study has highlighted the potential for using clean ammonia to refuel ships... Read more
(Posted on 05/11/23)
IAPH has announced the ratification by the IAPH Council of the new IAPH Board. The Board is formed by... Read more
(Posted on 05/11/23)
CN has announced that it acquired from Genesee & Wyoming Inc., a stake in the Cape Breton &... Read more
(Posted on 31/10/23)
Due to continued very high inflation, the Hamburg Port Authority (HPA) will raise port fees by an average... Read more